Lt. Col. Don Emigholz
Today February 22, 2021 I received the sad news today that Lt. Col. Don Emigholz passed away this weekend. A legendary USAF fighter pilot and Skyblazer team member. I was in contact with Don for many years and he helped me with my USAF patch collection donating one of the crown jewels, an original 1957 USAFE Skyblazers team patch, and tons of information material from the 1956-1957 USAFE Skyblazesr team.
My sincere condolences to the entire family and all the friends of Don.
I would like to make a tribute to Lt. Col. Don Emigholz. As fellow Aviator and "civilian bug smasher" I can only dream of Don's career and the era he flew in. It has been a honor to correspond with Don throughout the years. A Nickel on the Grass!
Don flew an impressive career in the USAF on the T-33, F-80 A/B, F-84 E, F-86 F, F-100 C/D/F, O-1, A-1 H/E and F-4 C/D.
Starting pilot training in 1953 and retiring from the USAF in January 1980.
In his own words
Flying right wing on the Skyblazers, with Bill Creech leading was like a dream. He was so smooth, it was unbelievable and not once, during all the practices and shows, did he dump the stick.
I've had my share of pucker time flying the Atlantic and Pacific in single engine jets with no autopilot and got shot at and missed and shot at and hit, in Nam.
I've dead sticked a couple of Super Sabres, one at Bitburg and the other over Paris: It gets real quiet.
And if I had to do it all over again I would not change a thing. The joy of flying and fighting with the greatest bunch of pilots in this whole wide world is an experience reserved for some of the chosen few.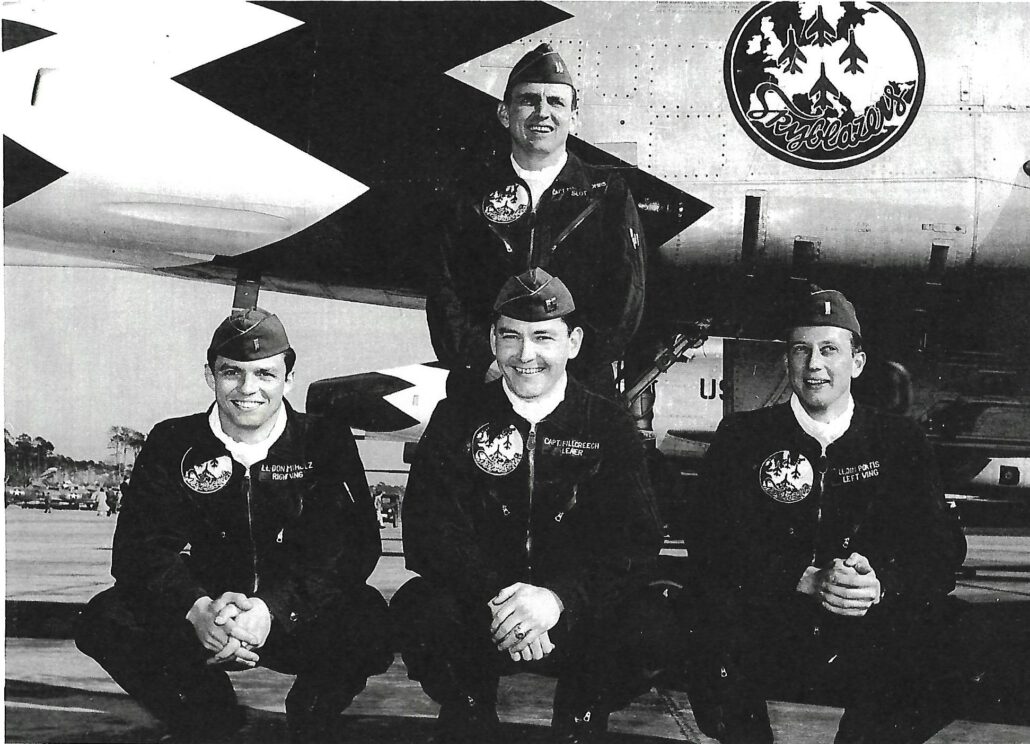 An overview of his impressive career
1953: Instrument School, Moody AFB, GA T-33
1953: Gunnery School, Tyndall AFB, FL F- 80A/B
1953-1956: 22 nd FDS Bitburg AB, GE F-84E F 86F
1956-1957: Right Wing, Skyblazers, Bitburg AB, GE F-100C
1957-1961: Flight Commander, 1st FDS, 306th FDS, 309th FDS, George AFB, CA F-100D
1961-1963: Wing DOT, 31st TFW, Homestead AFB, FL F-100D/F
1964: Chief of Stan Eval, I ASOC/34th TAC GP, DaNang/Bien Hoa, RVN T-28, O-1, A-1H/E
1965-1968: Flight Commander, Operations Officer, 10th TFS, Hahn AB, GE F-100D/F. F-4D
1968-1969: Flight Cdr, Instr Pilot for IP's, 4453rd CCTS 4454th CIS, Davis Monthan AFB, AZ F-4C
1969-1970: Operations Officer, 7th TFS, Spangdahlem AB, GE F-4D.
1971-1972: Det 1/CC, 401st TFW, Spangdahlem AB, GE F-4
1973-1975: 81st TFS/CC (Wild Weasels), Spangdahlem AB, GE F-4C
1976-1980: Director of Systems Test, TFWC, Nellis AFB, NV
31 Jan, 1980: Retired