"Silver Eagles"
Eagle History
The 550th Tactical Fighter Training Squadron "Sliver Eagles"  was stationed at Luke AFB, Arizona. The 550th TFTS started operating the F-15A/B on August 25, 1977.
On May 12th 1989 the 550th TFTS "Silver Eagles" also became operational as an F-15E RTU squadron. The task of the 550th in the F-15E role was to take experienced pilots and WSO's and train them to fly the F-15E. Once qualified the crews were then relocated to an operational squadron at the 4th Tactical Fighter Wing located at Seymour-Johnson AFB, North Carolina. On 14 November 1991 the 550th Fighter Squadron was deactivated at Luke AFB. All the Silver Eagles aircraft were transferred to the 555 FS Triple Nickel.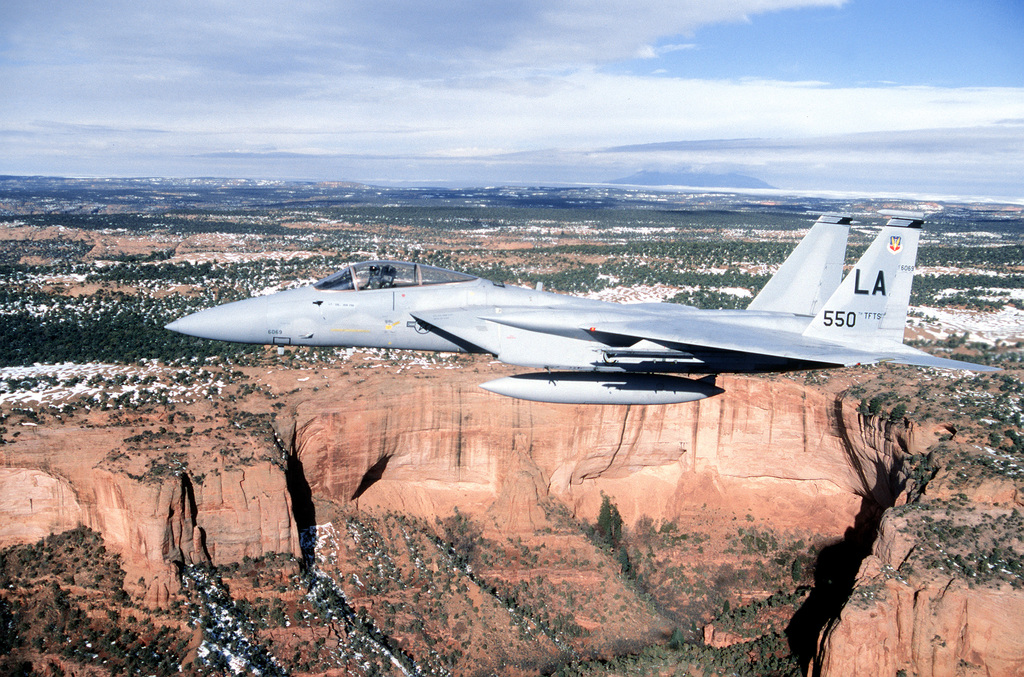 Associate training unit
In 2017, the 550th 'Silver Eagles' was reactivated to be part of the Total Force Integration (TFI) program. TFI is an acronym used to describe a military organization which has both reserve and active component members working side by side in the same organization for a common mission. They replaced Detachment 2, 56th Operations Group at Kingsley Field, Oregon.
The TFI was initiated after the Chief of Staff of the Air Force directed increased production of F-15C pilots. To achieve this goal the Air Force recognized the need for additional aircraft and manpower at the 173rd Fighter Wing, the sole Boeing F-15C Eagle training base for the USAF.
550th Fighter Squadron members fall under the command of the 56th Operations Group at Luke Air Force Base, Arizona, but operate out of Kingsley Field alongside the Oregon Air National Guard. The program is designed to bolster Kingsley's mission with additional Air Force active duty airmen stationed at the Air National Guard base in order to increase the number of pilots trained in a given period of time
(Official Air Force News bulletin)
Last F-15E's leave Luke LUKE AFB, Ariz. (AFNS) — With a wave of their wings as they climbed into the Arizona morning sun March 21, the last F-15E Strike Eagles bid farewell to Luke and ended their 21-year relationship with the world's premier fighter training installation.
The historical relationship between Luke and the F-15 Eagle began when the Air Force's first F-15 was delivered to Luke Nov. 14, 1974. The Eagle's arrival at Luke was met by a host of national and state officials, including then-President Gerald Ford.Most of Luke's Strike Eagles have gone to the 333rd Fighter Squadron at Seymour-Johnson AFB, N.C., but six of the squadron's aircraft joined the 391st FS at Mountain Home AFB, Idaho.
Approximately 120 of the 550th FS original complement of 500 people will receive reassignments to Luke with most of those to join the newly activated 311th FS. The remaining people will receive assignments to Mountain Home and Seymour-Johnson.
The existing squadron support and maintenance facilities at Luke are earmarked for a new F-16 Taiwanese training squadron coming on-line in 1996."It kind of brings a tear to my eye" said Lt. Col. Tom "Tex" Mascot, 550th commander. "F-15 training has been going on here since November of 1974 when the first Eagle arrived, and every F-15E crewman has trained here."
Squadron photos