Maj. Bartle M. Jackson was a F-15 Eagle Driver stationed with the 59 TFS "Golden Pride" at Eglin AFB, FL. On December 28th, 1989, Maj. Jackson M. Bartle took off from Eglin AFB as part of a two ship for an Offensive BFM training mission against two F-16s from Moody AFB, GA. During Maj. Bartle M. Jackson F-15 (86-0153) crashed in the Gulf of Mexico and Maj. Jackson was tragically killed.
Maj. Bartle M. Jackson grew up in Windsford Road in Towson MD. The family has a rich US Navy history, with a great grandfather who was a Vice Admiral, grandfather who was rear admiral. Maj. Jackson wanted to follow in their footsteps but wasn't able to get appointed into West Point. However he did get appointed into the Air Force Academy. Unsure whether he wanted to fly or not but as soon as he enrolled into the Academy he knew. He graduated in the class of 1980 and got assigned to Shaw AFB were he flew light reconnaissance in the RF-4C. After Shaw AFB, Maj. Bartle M. Jackson went to Luke AFB and transitioned into the F-15 Eagle. After completing the F-15 training program he was assigned as an Eagle Driver at Elmendorf AFB, Alaska from 1983 till 1987. Providing Top Cover over North America and intercepting Russian "Bear" bombers.
After completion of his assignment at Elmendorf AFB, he would serve as a general's aid at the Pentagon. Flying all around the world before getting back to flying the F-15 Eagle this time at Eglin AFB.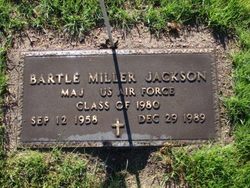 This memorial page is far from complete, if you have any biography information or please contact me at janpeter@skytrailer.nl