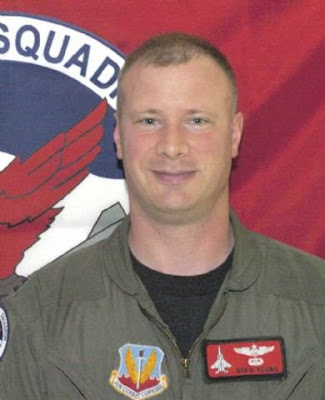 This page is in Honor and Memory of Major Gregory D Young.
Major Gregory D Young, was killed on June 26, 2007 while participating in a combat training sortie. Major Young was flying an F-15 Eagle (75-0040) with the 123rd Fighter Squadron Oregon ANG. Coordinating with three other Portland based fighter pilots, dogfighting with Texas Marine Corps Reserve pilots, when the crash occured.
Major Young, 34, was from St Helens, Oregon. Major Young graduated from Oregon State University in 1996 with a degree in civil engineering and a minor in aerospace studies. He was a cadet in the OSU Air Force Reserve Officers' Training Corp and was one of 46 picked to participate in a 55-week Euro-NATO joint jet pilot training program. Major Young had about 700 hours of flying time in F-15s and more than 1,000 hours of flying time in other aircraft.
Obituary
America lost one of its bravest sons on June 26, 2007. Maj. Gregory D. Young perished while serving his country as an F-15 fighter pilot during a training exercise.
Maj. Young was born on March 9, 1973, in St. Helens. A local fixture in the St. Helens community, Greg was loved by all. Everyone and anyone who interacted with him knew that he was destined for great things, and they were right.
Greg graduated with honors from St. Helens High School in 1991 and was an active participant in numerous extra-curricular activities. Even his football coach knew that Greg was a natural born leader who described him as the one with his "chest out and chin held a little higher." Always one to set and achieve high goals, Greg went on to Oregon State University where he graduated with a bachelor's degree in civil engineering with honors.
Maj. Young received his Air Force commission from Oregon State's ROTC program and was selected to attend the prestigious Euro NATO Joint Jet Pilot Training Program (ENJJPT). Greg was an excellent student who was asked to stay at ENJJPT as an instructor. Eventually, Greg learned to fly the airplane he loved, the F-15 Eagle. A talented fighter pilot and consummate professional, Maj. Young was a living example of our nation's best.
Greg is survived by his wife, Tonya, and four children, Dane, Gage, Chandley and Kaitlyn. He is also survived by his grandmother, Aletha Wolf; parents, David and Carol; brother, Gary; sister-in-law, Corbi; uncle, Dennis Lutje; and aunt, Linda Lutje.
Maj. Gregory D. Young left us with the rarest of privileges-he was doing all he could to serve his country. May we always honor him for his gift.