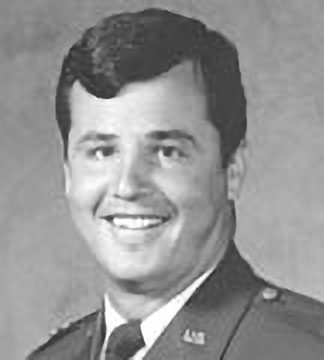 This page is in Honor and Memory of Major Thomas "Teek" Koritz and his impressive USAF career. Never to be forgotten!
Major Thomas F. Koritz was born August 10th, 1953 in Rochelle, Illinois. Throughout his life, he motivated and inspired individuals not only in his community, but throughout the military as an Air force officer and pilot. On January 16, 1991, he was killed in action as well as his crew member Lt. Col. Donnie Holland while conducting a bombing mission during Operation Desert Storm.
Thomas Koritz was born to Dr. Lloyd and Mary Koritz in the rural farming community of Rochelle, Illinois. Kortiz is remembered as a star in football, basketball, track, and weightlifting, as well as a hard-working student while attending Rochelle Township High school. While in high school, Koritz had an interest in aircraft and had spent much of his free time around the local airport (which now bears his name). After graduation, Koritz decided to further his education and attended the college of University of Illinois Urbana-Champaign in pursue of a biology degree. He graduated Phi Beta Kappa from U of I, and then following in the footsteps of his father and brother who were physicians, enrolled in the medical program in Rockford . He enlisted in the Air Force during his residency after medical school. Koritz was one of 42 pilots in Undergraduate Pilot Training class 82-01 that earned their silver wings October 8, 1982 at Columbus AFB, Miss. and the first pilot physician that went through pilot training as a doctor first.
On August 7, Operation Desert Shield began. Thomas Koritz and other crewmembers of the 335th TFS were deployed to Seeb Air base, Oman.
As the U.N. promised, on January 15, the U.S started flying missions over Iraqi-controlled Kuwait which involved twenty-four F-15E "Strike Eagles", quickly supported by another twenty-one F-15Es from the 335th Tactical Fighter Squadron. The initial mission was to destroy the Iraqi Scud missile sites that were heavily defended by means of anti-aircraft and patrolling fighter jets. While flying to the checkpoint, the crew had to refuel "blind", that is, without lights or radio communication. The crew knew the anti-aircraft capabilities Iraq had attained such as the AAA surface-to-air missiles and other fighter jets and did not want them to be given the opportunity to take down one of the newly instituted F-15Es early in the campaign. When the strike group finished refueling, they reached their objective and began to engage the Iraqi Scud launchers and three Iraqi MiG 29s that counterattacked. After quickly turning the night to-day and bombing the site and taking down two of the three MiGs, the strike force returned to base after a successful night.
On the night of January 17, 1991, the most dangerous mission of the war was issued to Major Thomas Koritz, his crewmate Lt. Col. Donnie Holland, and other members of the 4th Tactical Fighter Wing. The mission was to target a petrol, oil, and lubrication plant near Basrah, Iraq. The mission as described resembled the Ploesti raid in WWII, where the U.S tried to deny the Axis access to oil, in order to halt their mechanized units in the European theater. Despite the initial success of the F-15E pilots in the mission, the Iraqis downed their first Strike Eagle: the one flown by Major Thomas Kortiz. While Koritz and Holland were MIA, there was still much hope for their survival because Iraq initially boasted in a CNN broadcast on January 20, 1991 that they had captured some coalition forces. For the next forty days after Koritz and Holland went missing, only one other Strike Eagle was shot down, and in that case, both members were able to eject, were captured as POWs, and were held until the war ended on March 1, 1991. When Iraq withdrew from Kuwait and the POWs were released, it was discovered that Major Thomas Koritz and Lt. Col. Donnie Holland had not been be taken prisoner, but had died in the crash of their F-15E.