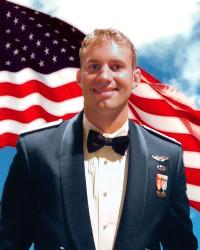 This page is in Honor and Memory of Capt. Mark R. "Pitbull" McDowell.
Capt. Mark R. "Pitbull" McDowell flew the F-15E Strike Eagle with the 336th Fighter Squadron "Rocketeers" at Seymour-Johnson AFB. In 2009, Capt. McDowell deployed to Bagram AB, Afghanistan.
Capt. Mark R. "Pitbull" McDowell was flying F-15E (90-0231) with WSO, Capt. Thomas J. "Lag" Gramith on a combat mission in support of coalition operations when their aircraft went down.
A team of U.S. and coalition forces where immediately responded to the crash site, secured it and recovered the Airmen. Air Combat Command officials released the results of the investigation on Dec 1, 2009.
The flight of two F-15E's were near the end of a night CAS sortie when they got permission to practice high-angle strafing runs over a dry lake bed while wearing night-vision goggles in low illumination. The planes wouldn't fire rounds, but would practice approaches and targeting. During the practise attack run the F-15E of Capt. Mark R. "Pitbull" McDowell and Capt. Thomas J. "Lag" Gramith impacted the ground.
Obituary
When Mark Russell McDowell set his mind on something, family members say, there was no stopping him.
As an MVP on South Iredell High School's soccer team, he played his entire senior year in a cast up to his elbow after breaking his left hand. He set his sights early on getting accepted to the U.S. Air Force Academy, telling his mother, Barbara Thomas, he wanted the quality education.
"His father said to me, 'Don't believe that,'" Thomas said Tuesday. "'He's going to fly.' I believe all along he wanted to be a fighter pilot. Once he got out there, being in that environment, it solidified that."
Capt. McDowell, 26, was one of two airmen who died Friday in an F-15E crash in Afghanistan, according to the Department of Defense. McDowell and Capt. Thomas Gramith, 27, of Eagan, Minn., were assigned to the 336th Fighter Squadron at Seymour Johnson Air Force Base in Goldsboro.
Thomas said memorial services are being planned for both the Charlotte area and Tamassee, S.C., about three hours west of Charlotte, where she lives.
His parents learned of McDowell's death early Saturday through a phone call from his wife, Katie, an Air Force first lieutenant stationed in Iraq. Thomas said McDowell died during an active mission, like ones he flew many nights since being in Afghanistan.
On Tuesday, friends and family recalled McDowell as a smart, driven man who made friend and connections easily.
Speaking by telephone from her parents' home in Fairfax, Va., Katie McDowell recalled how she and her husband met at the academy, where McDowell graduated in 2005, and Katie in 2006. They married Thanksgiving weekend in 2007.
"He was always good at everything," she said. "If we did something, he always learned quickly, or was always better at it than everyone."
When Katie McDowell left for Iraq in June, the two kept in touch long distance through phone calls and e-mails, she said.
"He loved flying. He loved being a part of the community that was doing what they're doing, and just being able to serve."
McDowell attended Cornelius Elementary in the Charlotte-Mecklenburg school system, and later Brawley Middle in Mooresville. In eighth grade, he began researching military service, later focusing on the Air Force.
Walt Hitchcock, McDowell's friend since age 12 through school and soccer, said their parents all became fast friends while traveling for the boys' soccer competitions. Hitchcock and his family are arranging McDowell's Charlotte-area service.
"I've probably talked to 100 people, and (read) 200 e-mails about different things," Hitchcock said. "He'll be truly missed, and I wish we had more people out there like him. … He was just a really driven individual, and wanted to do what was best for himself and his family and serve his country."
Thomas said the combination of his grades, athletics, and volunteer work that included tutoring not only drew admission to the academy, but a full scholarship he could have used elsewhere.
McDowell is survived by his mother and wife; father Stan McDowell and stepmother Karen; stepfather Bill Thomas; and brothers Joseph McDowell and Bill Thomas, known as B.T.
"My son died doing what he believed in and what he loved," said Thomas, her voice breaking. "He served his country with honor and he served his country with pride. And he gave his country everything he had.