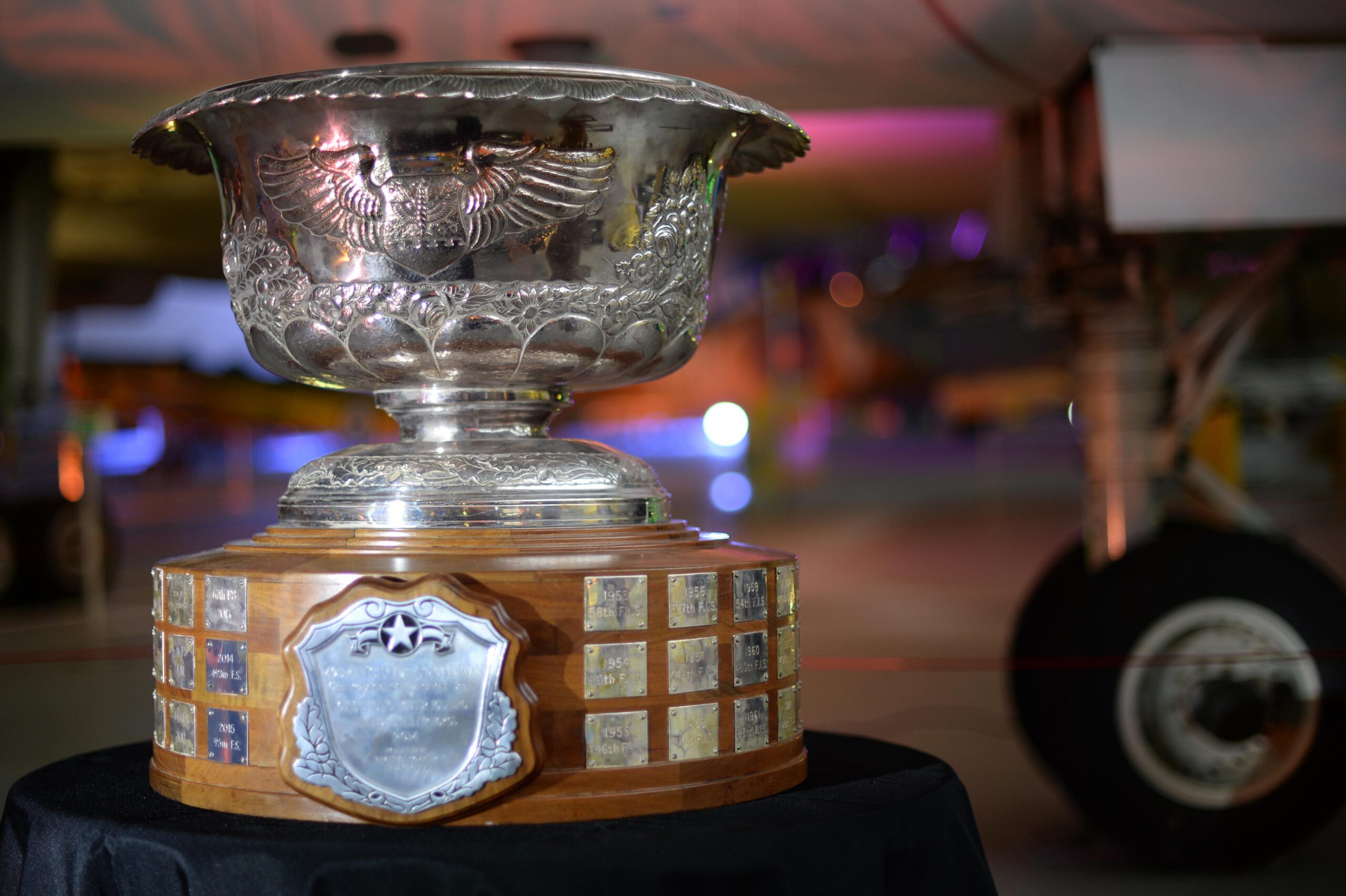 The Raytheon Trophy, awarded annually since 1953, is given to the top air-superiority or air-defense squadron in the Air Force. Formerly known as the Hughes Trophy or Hughes Achievement Award, as originally sponsored by Hughes Aircraft Company, is now sponsored by the Raytheon Company after the company purchased Hughes Electronics in 1997.
Units are graded on air defense and air superiority mission performance, operational mission performance, organizational readiness inspection results, training exercise participation, unit achievements and awards, individual achievements and awards and unit incentive programs. Initially, only Fighter Intercept units could participate but in 1970 the competition was opened to any squadron performing air defense as their primary mission.
In 1963, the Air Force reclaimed the first trophy from the deactivated 58th FIS and the original trophy is continuously is passed along each year.
After the Eagle entered service in 1976 it won it's first Trophy in 1979 with the 32nd Tactical Fighter Squadron "Wolfhounds" at Soesterberg AB. Since then the F-15 has won 32 times up to 2015.
Raytheon Trophy Winners
1953 58th FIS, Otis AFB, Mass. F-94C
1954 96th FIS, New Castle County Airport, Del. F-94C
1955 496th FIS, Landstuhl AB, West Germany F-86D
1956 317th FIS, McChord AFB, Wash. F-86D/F-102A
1957 512th FIS, RAF Bentwaters, UK F-86D
1958 31st FIS, Elmendorf AFB, Alaska F-102A
1959 54th FIS, Ellsworth AFB, S.D. F-89J
1960 460th FIS, Portland Arpt., Ore. F-102A
1961 83rd FIS, Hamilton AFB, Calif. F-101B
1962 444th FIS, Charleston AFB, S.C. F-101B
1963 497th FIS, Torrejon AB, Spain F-102A
1964 329th FIS, George AFB, Calif. F-106A/B
1965 317th FIS, Elmendorf AFB, Alaska F-102A
1966 32nd FIS, Soesterberg AB, Netherlands F-102A
1967 317th FIS, Elmendorf AFB, Alaska F-106A/B
1968 64th FIS, Clark AB, Philippines F-102A
1969 71st FIS, Malmstrom AFB, Mont. F-106A/B
1970 57th FIS, NAS Keflavik, Iceland F-102A
1971 48th FIS, Langley AFB, Va. F-106A/B
1972 43rd TFS, Elmendorf AFB, Alaska F-4E
1973 555th TFS, Udorn RTAB, Thailand F-4D
1974 119th FIG (ANG), Hector Field, N.D. F-101B
1975 318th FIS, McChord AFB, Wash. F-106A/B
1976 57th FIS, NAS Keflavik, Iceland F-4C
1977 43rd TFS, Elmendorf AFB, Alaska F-4E
1978 49th FIS, GriffissAFB, N.Y. F-106A/B
1979 32nd TFS, Soesterberg AB, Netherlands F-15A/B
1980 32nd TFS, Soesterberg AB, Netherlands F-15A/B
1981 12th TFS, Kadena AB, Japan F-15C/D
1982 44th TFS, Kadena AB, Japan F-15C/D
1983 67th TFS, Kadena AB, Japan F-15C/D
1984 318th FIS, McChord AFB, Wash. F-15A/B
1985 120th FIG (ANG), Great Falls Arpt., Mont. F-106A/B
1986 67th TFS, Kadena AB, Japan F-15C/D
1987 57th FIS, NAS Keflavik, Iceland F-15C/D
1988 22nd TFS, Bitburg AB, West Germany F-15C/D
1989 67th TFS, Kadena AB, Japan F-15C/D
1990 58th TFS, Eglin AFB, Fla. F-15C/D
1991 58th TFS, Eglin AFB, Fla. F-15C/D
1992 59th FS, Eglin AFB, Fla. F-15C/D
1993 71st FS, Langley AFB, Va. F-15C
1994 178th FS (ANG), Hector Arpt., N.D. F-16A/B
1995 27th FS, Langley AFB, Va. F-15C/D
1996 60th FS, Eglin AFB, Fla. F-15C/D
1997 493rd FS, RAF Lakenheath, UK F-15C
1998 71st FS, Langley AFB, Va. F-15C/D
1999 493rd FS, RAF Lakenheath, UK F-15C
2000 19th FS, Elmendorf AFB, Alaska F-15C/D
2001 71st FS, Langley AFB, Va. F-15C/D
2002 27th FS, Langley AFB, Va. F-15C/D
2003 67th FS, KadenaAB, Japan F-15C
2004 60th FS, Eglin AFB, Fla. F-15C/D
2005 71st FS, Langley AFB, Va. F-15C/D
2006 12th FS, Elmendorf AFB, Alaska F-15C/D
2007 493rd FS, RAF Lakenheath, UK F-15C/D
2008 179th FS (ANG), Duluth IAP, Minn. F-16C
2009 19th FS, Elmendorf AFB, Alaska F-15C/D
2010 27st FS, Langley AFB, Va. F-22A
2011 67th FS, KadenaAB, Japan F-15C
2012 44th FS, KadenaAB, Japan F-15C
2013 67th FS, KadenaAB, Japan F-15C
2014 493rd FS, RAF Lakenheath, UK F-15C/D
2015 95th FS, Tyndall AFB, FL F-22A
2016 493rd FS, RAF Lakenheath, UK F-15C/D
2017 492nd  FS, RAF Lakenheath, UK F-15E
2018 494th FS, RAF Lakenheath, UK F-15E
2019 493rd FS, RAF Lakenheath, UK F-15C/D
2020 79th FS, Shaw AFB, SC F-16C/D
2021 525th FS, Elmendorf AFB, AK F-22A
2022 335th FS, Seymour-Johnson AFB, N.C. F-15E