This page is in Honor and Memory of Capt. Eric B. Das and his impressive USAF career.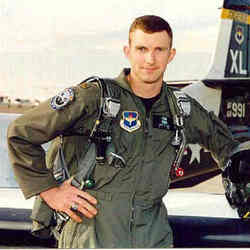 Capt. Eric B. Das was assigned to the 333rd Fighter Squadron based at Seymour Johnson Air Force Base, N.C.; killed when the F-15E he was piloting went down during a combat mission in Iraq. 
When Eric Das was a kid, growing up in Amarillo, Texas, he had a game he'd play.
"Whenever an airplane flew overhead, he'd point up and say, 'Coach, do you know what kind of plane that is?' "Jim Langdon, who coaches track at Amarillo High School, recalled. "I'd say, 'No.' Then he'd tell me. He knew every kind of plane that flew in the sky."
Das, 30, died April 7, piloting an Air Force F-15E that went down during a combat mission over Iraq. He was listed as missing until April 18, when the Air Force announced that his remains had been identified. People who knew him say two things stand out about his life: He always wanted to be a pilot, and he openly professed his Christian faith.
Das is the son of missionaries. He was born in the Netherlands, when his parents were working there. The family lived briefly near the Air Force Academy in Colorado Springs, where Das watched planes fly overhead and people parachute from the sky. He eventually went to school there.
"He was the kind of kid who made coaching fun," said Langdon, who remembers Das even though it's been more than 10 years since he graduated and went on to the Air Force Academy.
After earning a degree in civil engineering and his wings, Das was stationed in Alaska. He met his wife, Nikki, 25, an Air Force first lieutenant, there. She was a sister of one of his pilot buddies. They met at the Officer's Club. When the song, "Amarillo by Morning," played, he asked her to dance. They married 18 months ago and were stationed in Kuwait in side-by-side tents — he as a pilot, she as an intelligence officer. "We'd eat together in the mess hall and he'd joke that he was buying," she said.
"You have to have priorities in life, and Eric had them — God, family and country, in that order," Nikki Das said. "He had a wonderful magnetic spirit. He had a fulfilled life, and he died doing the thing he loved. He was very patriotic. And our freedom is not free."