This page is in Honor and Memory of Capt. Edwin "Cowboy" Cardin and his impressive USAF career. Never to be forgotten!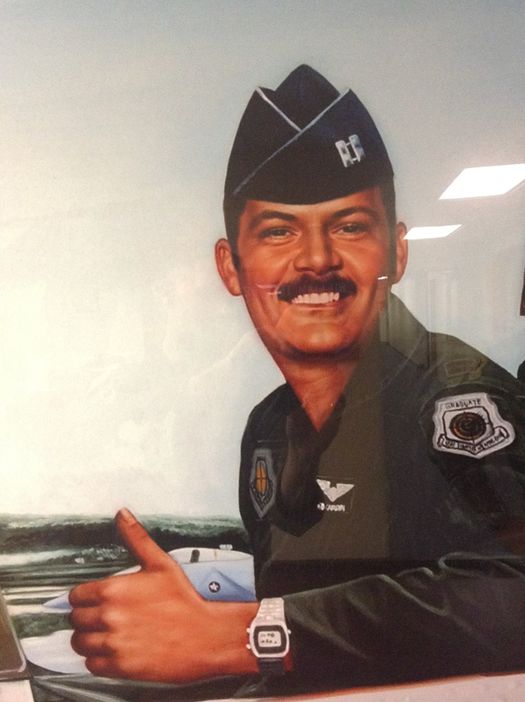 Capt Edwin "Cowboy" Cardin was born on November 16, 1952 and raised in Cape Girardeau, Missouri. He earned his Private Pilot's license at age 17 and graduated from Southeast Missouri State University with an Air Force commission in 1975.
Lt Cardin was an Outstanding Graduate of the Intermediate Pilot Training Class 77-04 at Laughlin AFB and [obscured by glare] Eagle training at Luke AFB. He continued flying the F-15 at Holloman AFB in preparation for assignment as initial cadre for Pacific Air Forces' first F-15 squadron.
On September 29, 1979, Lt Cardin landed F-15C Tail #78-0493 on Kadena AB, marking the arrival of the first F-15 squadron. Cowboy established himself as a very outgoing, talented fighter pilot and graduated from the F-15 Fighter Weapons School at Nellis AFB. He was the 67th Tactical Fighter Squadron's Weapons Officer and a member of Kadena's Overall Winning Team at the USAF's William Tell Air-to-Air Meet at Tyndall AFB in 1982.
On December 29, 1982, Capt Cardin was leading a defensive BFM [basic fighter maneuvers] sortie in W-173 [operations area], when he collided with his wingman during slow speed vertical flight. His wingman ejected safely, but Cowboy was killed in the collision and his body was not recovered. He was survived by his wife Rebecca and two year old son Geoffrey.
On January 29, 1983, Becky established an endowed scholarship in her husband's name to be awarded annually to a non-scholarship AFROTC cadet at Southeast Missouri State University. On June 16, 1983, Building 3382, known as the "triple-squadron" building housing the 12th, 44th and 67th TFS at Kadena AB, was dedicated in his memory.
Cardin Hall is now home to the 18th Operations Support Squadron and was rededicated on December 20, 2013.