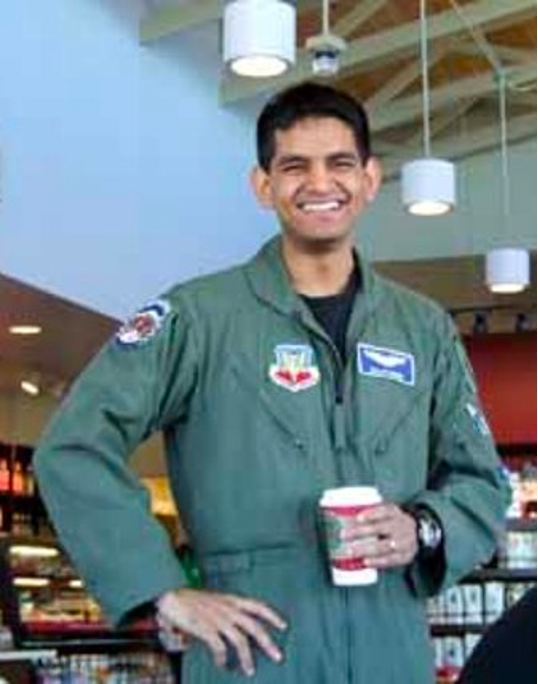 This page is in Honor and Memory of 1st Lt. Ali Jivanjee
On 20 February 2008, two F-15C Eagles (79-0075 and 81-0043) of the 58th Fighter Squadron, 33rd Fighter Wing, Eglin AFB, Florida, collided over the Gulf of Mexico approximately 50 miles south of Tyndall AFB, Florida, one of these Eagles was piloted by 1st Lt. Ali Jivanjee who tragically died from injuries after ejection.
Obituary
Lt. Ali Jivanjee was from San Dimas, Calif., and graduated from San Dimas High School in 1999. He graduated from UCLA in 2004 with a degree in electrical engineering and Russian language and literature. He was a member of the ROTC and went on to receive specialized undergraduate pilot training at Laughlin Air Force Base in 2006.
In his second year of school, Jivanjee met his future wife, Sara. They married in May 2005.
John Graas, who was in the ROTC with Jivanjee, said Sara was an important part of Jivanjee's life.
After spending several years in the ROTC, Jivanjee was commissioned as an officer in 2004. About six months ago, Jivanjee was assigned to the Eglin Air Force Base in Florida.
Aneesh Singhal, a college friend of Jivanjee's, told the Northwest Florida Daily News that Jivanjee was happy being in Florida, where his parents and younger brother were already living.
As a member of the 33rd Fighter Wing's 58th Fighter Squadron, Jivanjee flew F-15C Eagle airplanes. Graas said he was an exceptional pilot.
"He was incredible. He was one of the best F-15 pilots there ever was. From the moment he set foot in the cockpit until the moment he died, he loved every minute of it,"Graas said.
On Wednesday, Feb. 20, Jivanjee was flying a plane in a routine training exercise about 77 miles southeast of Eglin, Florida. His plane collided with another at approximately 2 p.m. Both pilots were taken to the hospital, where Jivanjee was pronounced dead. The pilot of the other plane was listed as "in good condition," according to the base's Web site, and was released from the hospital the same day.
Jivanjee had a traditional Muslim funeral ceremony with military honors on Feb. 22 in Tampa, Florida. Eglin Air Force Base held a memorial for Jivanjee on Feb. 27, where they unveiled a fighter jet named in Jivanjee's honor.
His fellow officers noted Jivanjee's generosity and aptitude for playing poker. Dungarwalla said more than 700 people showed up for the service.
According to the Northwest Florida Daily News, Randolph Air Force Base had announced in January that Jivanjee was going to be promoted to captain. The honor had not yet been bestowed when Jivanjee died.
Graas said he remembers Jivanjee as a great person to be around.
"He was always smiling, he was always happy. … He was always a hell of a lot of fun to hang around with,"Graas said.
Lt. Jivanjee leaves behind his wife, Sara; his parents, Mehboob and Anisa; his younger brother, Ibrahim; and many more extended family members and friends.