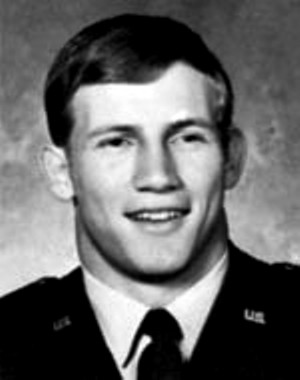 This page is in Honor and Memory of Lt. Michael J. Mark
Lt. Michael J. Mark was an Eagle Driver with the 22nd TFS flying the Mighty F-15 out of Bitburg AB. He had completed F-15 initial training at Holloman AFB and joined the 22nd TFS for his fist operational assignment.
On July 6th 1978 Lt. Mark was flying F-15A 76-0053. Departing Bitburg AB as one of a flight of four en route to an Air Combat Tactics/Air Refuelling mission. After take-off from Bitburg the aircraft formated for a standard instrument departure and established radio and radar contact with departure control.
Shortly after, the departure radar failed and the flight leader, Adler 21, was: informed that radar contact had been lost. Adler 21 told departure control that he was in visual meteorological conditions (free of cloud) and was instructed to continue the instrument departure. Radar contact was re-established one minute later, by which time the flight was flying level in cloud at 7,000ft.
Departure control requested all aircraft except the flight, leader to switch off their radar transponders. Shortly after, Adler 24 called "Four is lost wingman," indicating that he had lost contact with the flight. Adler 21 acknowledged. Seventeen seconds later Adler 23 called "Two-three is lost wingman." The flight leader acknowledged and informed departure control of his lost wingmen, requesting permission to climb above the clouds.
The flight was cleared to climb to 20,000ft, but Adler 21 levelled off above the clouds at 9,500ft. Adler 23 rejoined the flight visually. A radio, radar and visual search failed to locate Adler 24. The aircraft crashed 13 nautical miles north-north-east of Bitburg AFB. The canopy was still on the aircraft and ejection had not been initiated. The pilot (1st Lt. Mike Mark) was killed on impact.
Obituary
As a cadet, Mike participated in the Russian, History, and Geography Clubs as well as the Fellowship of Christian Athletes. He was on the Superintendent's List during all eight semesters of his enrollment at the Academy and during his first class year served as the Deputy Wing Commander. Perhaps the place where Mike felt the most at home while at USAFA was on the football field. Teammates, coaches and fans alike will always remember his electrifying and daring style of play; a style Ben Martin termed "gutsy," a style which earned him the Athletic Leadership Award as well as the Most Valuable Back Award. His exuberance on the football field was exemplary of his attitude toward life; he played to win. Mike will be missed by all those whose lives he touched, but the loss of Number 44 will be especially felt by those associated with AF football.
Mike completed UPT at Columbus AFB, and was subsequently stationed at Holloman AFB, Luke AFB, and Bitburg AB.