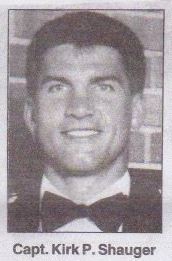 This page is in Honor and Memory of Capt. Kirk P. Shauger
Capt. Kirk P. Shauger was an F-15 Eagle Driver stationed with the 22nd Fighter Squadron at Bitburg AB Germany. On the 22nd of April 1992 Capt. Kirk Shauger was flying an F-15C (80-0023)and was killed when his F-15 crashed near Stuttgart, Baden-Wurtemberg, Germany.
Obituary
Capt. Kirk P. Shauger was born May 25th 1964 in Midland, graduated Highschool in 1982 and attended Central Michigan University were he received a B.S. degree. On May 5th 1988 Capt Shauger was selected as a 2nd LT in the U.S. Air Force after completing Officer Candidate School at Lackland AFB, TX. He then enrolled in the Undergraduate Pilot Training school at Laughlin AFB, TX graduating in the top 10 percent of his class. Earning a distinguished graduate award and his Silver Wings on June 8th 1989. His first assigned was flyingthe F-15 Eagle with the 8th TFS "Black Sheep" based at Holloman AFB, N.M. Capt. Kirk P. Shauger married Denise Hendrix on March 7th 1992 at Tyndall AFB, FL. Before moving to his next assignment as an F-15 pilot at Bitburg AB. He arrived here on March 18th and joined the 22nd Fighter Squadron.