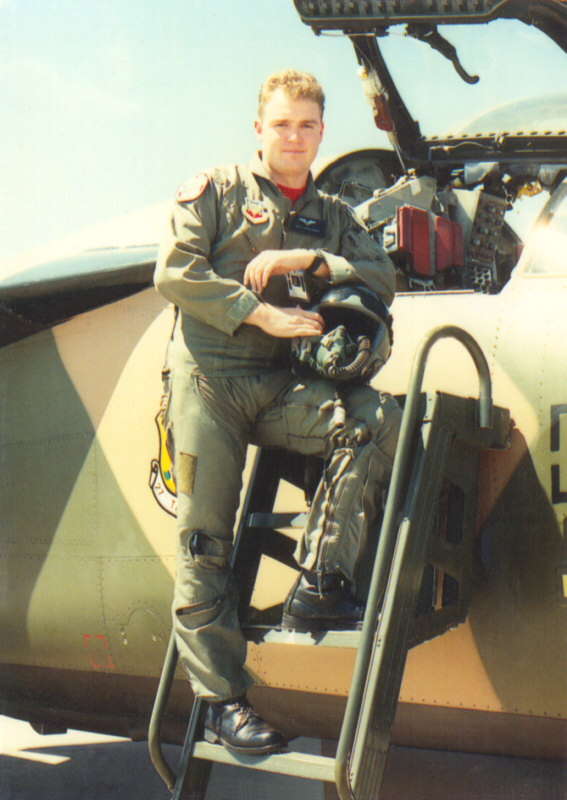 This page is in Honor and Memory of Capt. Jeffrey K. "Flounder" Fahnlander
Capt. Jeffrey K. "Flounder" Fahnlander flew on the F-15E Strike Eagle with the 391st Fighter Squadron "Bold Tigers" at Mountain Home AFB. AFB.
On Oct 21, 1998 Capt. Jeffrey K. "Flounder" Fahnlander (WSO) was flying F-15E (89-0497) together with Lt. Col. William E. Morel III (Pilot) They flew as part of a formation flying a night training mission for surface attack tactics. The exercise involved low altitude night reactions to simulate enemy threats.
According to the accident board, the crew became spatially disoriented. During a simulated surface-to-air missile attack, Morel and Fahnlander unknowingly flew their airplane to a nose low position, outside the limits of their terrain-following radar. The position of the airplane prevented the TFR from arming and providing automatic fly-up protection. Visual cockpit warnings may have been missed by the crew. When the "low altitude" voice warning sounded, it was too late to recover from the steep dive.
Their F-15E crashed near McDermott State Airport, Oregon killing both crew members.
Obituary
Captain Jeffery K. Fahnlander went to be with our Lord on October 21, 1998. He was a Weapons Systems Officer (WSO) in the F-15E, Strike Eagle, assigned to the 391st Fighter Squadron at Mountain Home AFB, Idaho. He was on a routine nighttime training mission when his aircraft went down in southeastern Oregon, near McDermitt, Nevada.
Jeffery was born at Brainerd, Minnesota on March 28, 1967. He lived in many places while growing up before settling in Spanaway, Washington. He attended Spanaway Lake High School, playing both football and baseball, and graduating with the class of 1985. In 1989, he earned his college degree in Political Science from the University of Puget Sound in Tacoma, Washington. During his first semester in college, Jeffery decided on a military career when he accepted an Air Force ROTC 4-year scolarship. He entered the U.S. Air Force in May 1989 and earned his Navigator Wings a year later at Mather AFB, California.
On October 26, 1991 he was united in marriage to his best friend and confidante, Laura E. Siebe, in Sacramento, California.
Jeffrey is survived by his loving wife, Laura of Boise, Ada, Idaho; his parents, James and Mary Fahnlander of Spanaway, Washington; two brothers and their wives, Greig and Nicole of Puyallup, Washington and Chad and Traci of Ortling, Washington. He also leaves behind his grandmothers, Ann Greig of Motley, Minnesota and Jeanne Whitney of Staples, Minnesota; his in-laws, Roger and Linda Siebe of Dublin, California; a brother-in-law, Roger Siebe Jr. of San Ramon, California; along with numerous aunts, uncles, cousins and friends.
Jeffrey will be remembered by his ready smile and his friendship to everyone who came in contact with him, because they were all his best friends. His family adored him, looked up to him, and were very proud of what he did. He will be truly missed and his memory will live on in our lives forever. We love you son. Fly Safely and God speed.
Funeral services will be held at 11:00 AM, November 14, 1998 at the Spanaway United Methodist Church, 135 163rd Street, Spanaway, Washington. Burial, with full Military Honors, will be at the Tahoma National Cemetery in Kent, WA.