This page is in Honor and Memory of Capt. John "Hoss" Kindred and his impressive USAF career. Never to be forgotten!
I met John "Hoss" Kindred when I was a kid back in Woudenberg, the Netherlands when Capt. Kindred was flying F-15s at Soesterberg Air Base. As a young teenager with a dream to fly, "Hoss" together with other Eagle Drivers at Soesterberg like Craig "Kool" Jones and Matt " Boz" Beals were my role models and inspired me to peruse a career in aviation. Capt. Kindred moved out of Woudenberg to Kadena AB (67th FS). It wasn't until visiting Craig "Kool" Jones at Spangdahlem AB in 1994 that I learned of the fatal crash of Capt. John " Hoss" Kindred.
Captain John R. "Hoss" Kindred, died May 6, 1994 at the age of only 31 in a mid-air collision over the Yellow Sea, West of South Korea.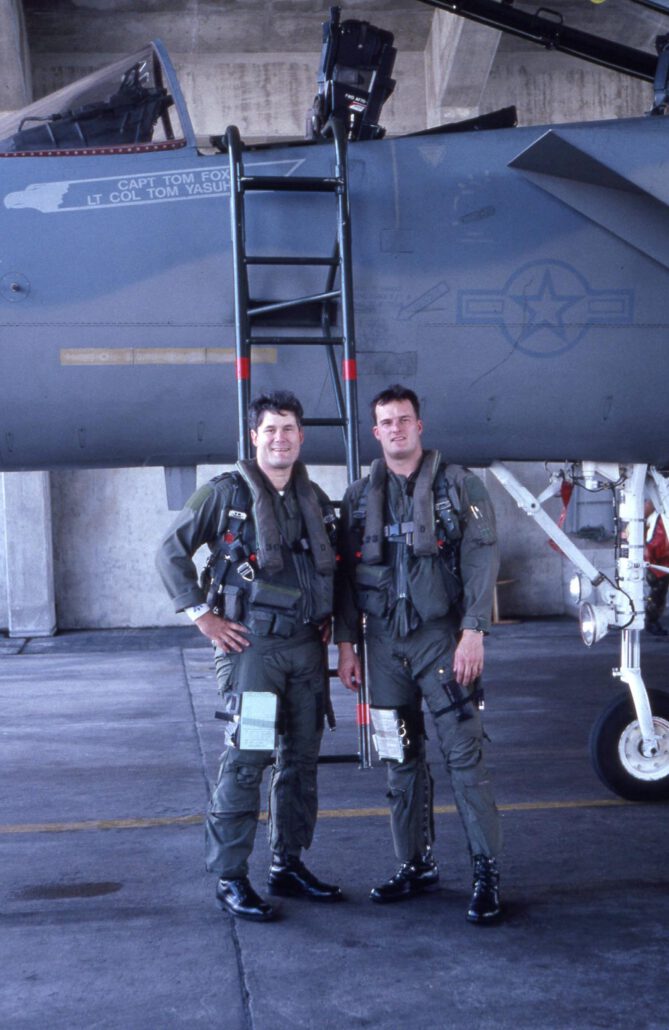 Capt. Kindred was born on 6 April 1963 in Glendale, Calif. He grew up in Tujunga, Calif.; Draper, Utah and in Layton, Utah, where he graduated from Layton High School, 1980. He earned an Eagle Scout Award. After attending Brigham Young University for two years, he served a mission for The Church of Jesus Christ of Latter-day Saints in Belgium and The Netherlands. He returned from The Netherlands and continued his education at BYU. He married the former Lori Silvernagel in August, 1985 in the Washington DC Temple. He graduated in December, 1986 with a BS in Design Engineering Technology and a commission as a 2nd Lieutenant in the United State Air Force.
In July 1987, Captain Kindred attended undergraduate pilot training at Reese AFB, Texas. He completed training as a distinguished graduate in May 1988. From July to August of the same year, he attended Lead In Fighter Training at Holloman AFB, NM. Captain Kindred then went to Tyndall AFB, Florida for F-15 fighter training, graduating in March, 1989.
Hoss's first operational assignment was to the 32nd Tactical Fighter Squadron, Soesterberg AB, Netherlands. He and Lori loved this area where he also served a branch president.
In April, 1991, John and Lori were assigned to the 67th Fighter Squadron, Kadena AB, Okinawa, Japan. His leadership skills and flying abilities were readily apparent to the Squadron as he upgraded to Four Ship Flight Lead, Mission Commander, F-15 Instructor Pilot, Flight Commander. It was here at Kadena that sweet little Bryndel was born. John and Lori worked hard in the Serviceman's Branch where John also served as branch president.
Captain Kindred's talent for leadership was not limited to his work. He was a man with strong moral and religious beliefs who placed duty to God above all else. His willingness to serve God and his fellowman set an example for all to follow. Hoss's large stature was small compared to his compassion for love for those whom heserved.
"Serving God and Country, No Greater Call".