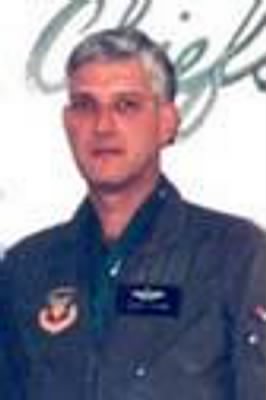 This page is in Honor and Memory of Lt. Col. Donnie Holland and his impressive USAF career. Never to be forgotten!
A 1966 graduate of Bastrop High School, he graduated from Northwestern State University with a degree in education in 1970 and taught industrial arts and drafting for five years before entering the Air Force. He had served 17 years in the Air Force and had flown F-4 Phantoms for 15 years before switching to the F-15 Eagle. LtCol. Donnie R. Holland flew with the 335th Tactical Fighter Squadron based at Seymour Johnson Air Force Base in North Carolina. When his squadron shipped out to Saudi Arabia, Holland was assigned to be weapons/systems operator onboard an F15E
Holland and his pilot, Maj. Thomas F. Koritz, participated in the first wave of attacks on Iraqi military targets on January 16, 1991. Koritz was also an Air Force surgeon. Holland had been in the Air Force for 17 years, but this was the first combat mission he had flown. Three hours after the aircraft in the first wave returned to base, Holland and Koritz had not returned and they were listed missing in action.
On January 20, 1991, Cable News Network (CNN) described a ropaganda parade of Coalition POWs and reported on interviews with several POWs. Three POWs made "peace" statements and were filmed and later shown on U.S. television, ensuring that public record is available that they are held by the Iraqi. Holland and Koritz were not mentioned in this, the first report of POWs of the war.
In the first days of March, 1991, 21 American POWs were released by the Iraqis. Donnie R. Holland has not yet been released.
Those who recall the abandonment of American POWs in World War II, Korea and Vietnam are watching carefully, determined that men like Holland will be returned alive, or fully accounted for, before American troops leave the Middle East when hostilities cease.
Donnie R. Holland was married and had two children, Heather, age 13 and Matthew, age 11. His parents, Doug and Christine Holland reside in Bastrop, Louisiana.