This page is in Honor and Memory of Lt. Col. Willliam R. Watkins and his impressive USAF career.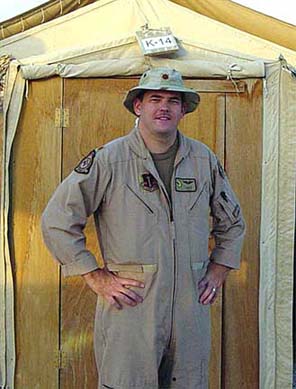 Lt. Col. Willliam R. Watkins was assigned to the 333rd Fighter Squadron based at Seymour Johnson Air Force Base, N.C.; killed in action when the F-15E he was in went down during a combat mission in Iraq.
In his 37 years, William Watkins tried to experience as much of life as he could. As a boy growing up in rural South Boston, Va., Watkins dreamed of flying, said his uncle Jeff Haley. But Watkins also wanted to sail the ocean, perform on stage, sing in the choir and play football.
"He truly enjoyed life," his uncle said.
Air Force Maj. William "Salty" Watkins III, a weapons officer on an F-15E Strike Eagle, died April 7 while flying a combat mission near Tikrit, Iraq. Watkins was one of two officers killed when the jet went down. The pilot, Capt. Eric Das of Amarillo, Texas, also died. His remains were identified last week.
The Pentagon has not said whether the jet was shot down or was lost under other circumstances. The cause is under investigation.
Watkins had transferred into the Air Force from the Navy two years ago to be near his wife, Air Force Maj. Melissa Watkins, an intelligence officer. Their son, William, is 11 months old, and another child is due in August.
"Bill's legacy will continue in the lives of his two children as it will in the memories that each of us holds dear of this truly caring and loving man," Melissa Watkins said in a written statement.
Watkins served 12 years in the Navy as a flight officer. He graduated from the U.S. Naval Academy in 1989.
He attended Woodberry Forest School, near Orange, Va., where he played football, sang in the school choir and was active in drama. "He was a big fellow but very artistic," said Edward Blain, who taught Watkins' senior English class.
"He was such a model for so many people," another uncle, Tucker Watkins, said. "He was the peacemaker in the family. Even as a kid, he was the adult in the group."
Watkins is also survived by a younger brother, Barksdale, in Richmond, Va., and a sister, Mary Garrett, in Philadelphia. His mother, Amy Atkins, lives in Danville, Va. His father died at a young age.
"The average American will know him as a war hero," Haley said. "For his family and friends, we knew him as a hero in other parts of his life: as a great dad, a family man, a brother and a friend."