By Airman 1st Class Rebecca Sirimarco-Lang
SEYMOUR JOHNSON AIR FORCE BASE, N.C. —
After a 19-year hiatus, the 2023 William Tell Air-to-Air Competition is scheduled to take place September 11-15, 2023, at the Air Dominance Center in Savannah, Georgia.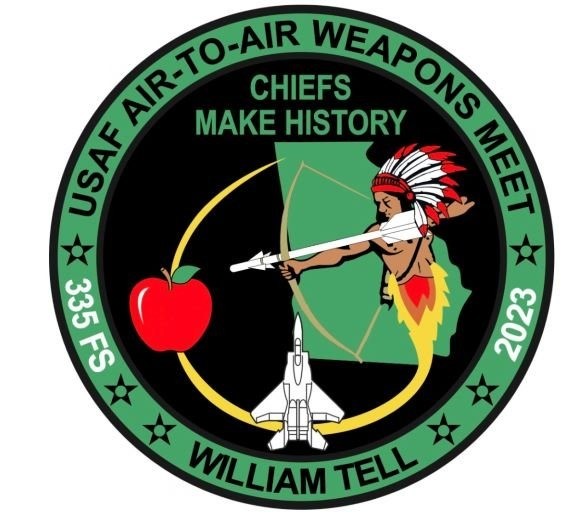 The historic fighter aircraft competition is named after legendary Swiss archer, William Tell. It began as a bi-annual competition in 1954 that encouraged the most challenging air-to-air scenarios. The competition was placed on hold due to military operations and contingency requirements in 1996.
In addition to the 4th FW, other teams from across Air Combat Command, Pacific Air Forces and the Air National Guard will compete in this air superiority-focused event.
"We want to send the 4th FW's best aircrew," said Capt. Andrew Munoz, 335th Fighter Squadron evaluator pilot and 4th FW William Tell team member. "There's a lot of different factors that I took into consideration when choosing my team."
The 4th FW team members were chosen based on their experience and performance.
The 2023 4th Fighter Wing's William Tell team members are:
Team Captain: Maj. Daniel "SLASH" Hutto
Instructor Qual: Pilot: Capt. Andrew "PAÑIC" Munoz Weapons System Operator: Capt. Richey "BREAUX" Menard
Wingman Qual: Pilot: Capt. Sean "WOLF" Sutedjo WSO: Capt. Noel "SP" Zamot
Any Qual: Pilot: Maj. Malcolm "REHEAT" Richards WSO: Capt. George "KING" Welton
Any Flight Lead: Pilot: Capt. Devin "CUJO" Beaulieu WSO: Capt. Eric "DIVE" Carter
Intelligence:
Senior Airman Elliot "DRAG" Atwell
Senior Airman Hannah "SHADE" Garcia
Maintenance:
Master Sgt. Christopher Oles
Staff Sgt. Jashaunn Jasper
Senior Airman Aaron Woods
Senior Airman Grace Forgey