INSIDE THE BEST FIGHTER SQUADRON OF THE U.S. AIR FORCE
If you are looking for a thrilling Christmas gift, what better that one of the best F-15 Eagle related books
Mission Ready is a visual narrative about a world that's not accessible to most of us. Until now. Documentary photographer and creative director Patrick van Dam gives us a realistic and uncensored insight into the "Best Fighter Squadron of the U.S. Air Force". Through compelling images, he offers an insider perspective of the legendary 493rd Fighter Squadron's daily operations. This is not Top Gun. This is better. This is real.
From 2016 to 2021, Van Dam was granted access to several restricted military airbases and experienced first-hand what it takes to be a fighter pilot during a training mission in an F-15 Eagle. His contemporary photography is never shy of demystifying a sometimes romanticized world, yet always with an aesthetic point of view.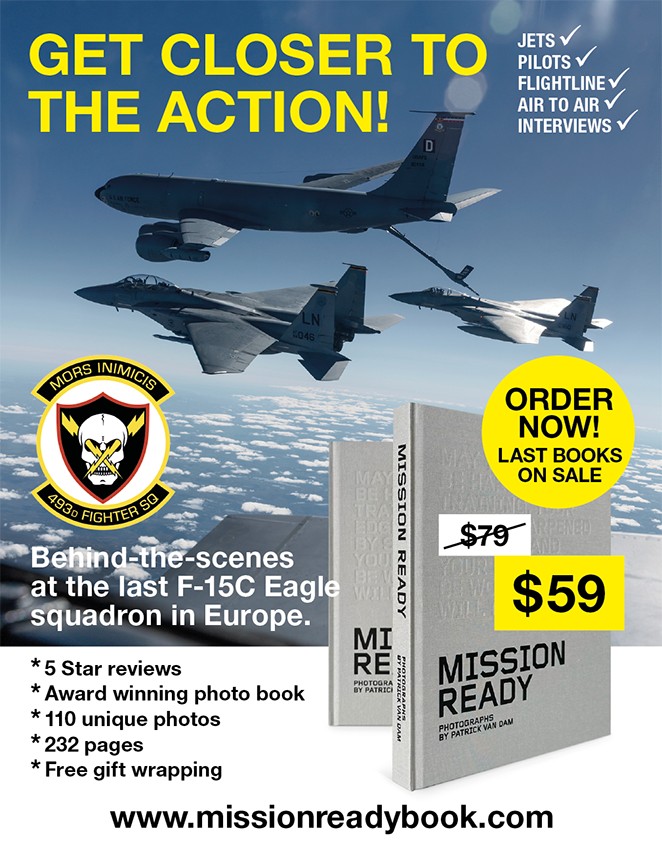 The photographs are complemented by stories from prominent "Grim Reapers" like Gulf War veteran and three-time "MiG Killer" Col. (Ret.) Cesar "Rico" Rodriguez. The result is a gripping book about an organization with unspoken rules and principles that takes pride in its honor and bravery.
The 493rd Fighter Squadron, also known as the "Grim Reapers", is a combat mission-ready squadron and provides air-to-air offensive and defensive support for the United States and NATO operations. It is part of the United States Air Forces in Europe (USAFE), located at RAF Lakenheath, United Kingdom. The 493rd was the last squadron in Europe flying the F-15 Eagle. Since 1994, they have conducted air superiority missions in the Balkans, Middle East, and Baltics. Since 1994, the 493rd has been awarded the coveted Raytheon Trophy for being the top Air Superiority Squadron of the U.S. Air Force, no less than six times. A unique and unconquered achievement.
In 2022, the squadron transitioned to the new 5th-generation F-35A Lightning II, marking the end of an era for the presence of the F-15 Eagle in Europe.
What are you waiting for, get this unique book and click on "MISSION READY " to order your copy now! Enjoy