Master Sgt. Julie Avey, Public Affairs Specialist
Lt. Col. Brenda Hendricksen, Public Affairs Officer
(3/31/2016 – Barnes Air National Guard Base, Westfield, Mass.) – The 104th Fighter Wing here will be deploying over 200 unit members, 12 F-15 Eagle aircraft and associated equipment in support of multiple NATO objectives in Europe.
While in the U.S. Air Forces in Europe Area of Responsibility, the 104th FW will support the NATO Air Surveillance mission in Iceland as part of a Theater Security Package in support of NATO alliance commitments.  The unit will also deploy to Leeuwarden Air Base, Netherlands, and other European NATO and partner nations.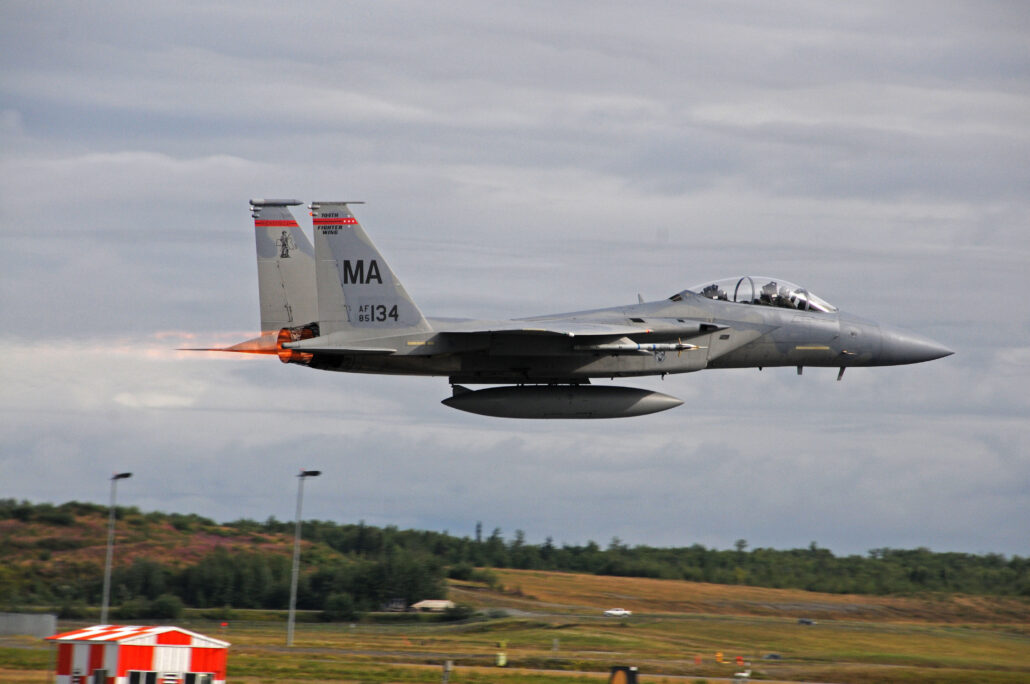 The unit will conduct training alongside our NATO allies and partners to strengthen interoperability and to demonstrate U.S. commitment to a Europe that is whole, free, at peace, secure, and prosperous.
"As Citizen Airmen we continue to support the National Security both home and abroad with partner nations and allies," said Col. James Keefe, Commander of the 104th FW. "Our Guardsmen are on duty accomplishing missions they train for every day at Barnes and are an enduring choice for security cooperation and building partnerships. Our defense relationships with allies like Iceland are critical to ensuring security for the United States and NATO."
The Air National Guard has enduring long-term relationships with countries with similar values and interests, paramount for meeting defense goals in today's global environment. The 104th FW Air Guardsmen provide critical support throughout the USAFE AOR by deploying and interacting with a variety of nations.
We represent America's forward presence, standing alongside our proven, indispensable European allies and partners. Together, we are ensuring our security, protecting our global interests, and bolstering our economic bonds. We are able to maintain a global presence thanks to the combined efforts of our active duty, National Guard, and Reserve Forces.
The 104th FW is an operational flying unit assigned to the Air Combat Command, and proudly claims the honor of being one of the oldest flying units within the Commonwealth of Massachusetts. Recently the 104th received "Air Control Alert Unit of the Year" by the Continental U.S. North American Aerospace Defense Command Region – 1st Air Force (CONR-1AF/AFNORTH).  A component of the North American Aerospace Defense Command (NORAD), the Continental U.S. NORAD Region (CONR) provides airspace surveillance and control and directs aerospace control activities for the continental United States (CONUS).
Tasked to provide operationally ready combat units, combat support units and qualified personnel for active duty, the 104th FW supports Air Force wartime contingency requirements and performs a variety of peacetime missions required by the Air Force and compatible mobilization readiness. One mission of the 104th is Aerospace Control Alert (ACA), providing armed fighters ready to scramble in a moment's notice to protect the Northeast from any airborne threat. The unit is responsible for protecting a quarter of the nation's population and one third of the Gross Domestic Product