By Airman 1st Class Rebecca Sirimarco-Lang
SEYMOUR JOHNSON AIR FORCE BASE, N.C. —
After a 19-year hiatus, the 2023 William Tell Air-to-Air Competition is scheduled to take place September 11-15, 2023, at the Air Dominance Center in Savannah, Georgia.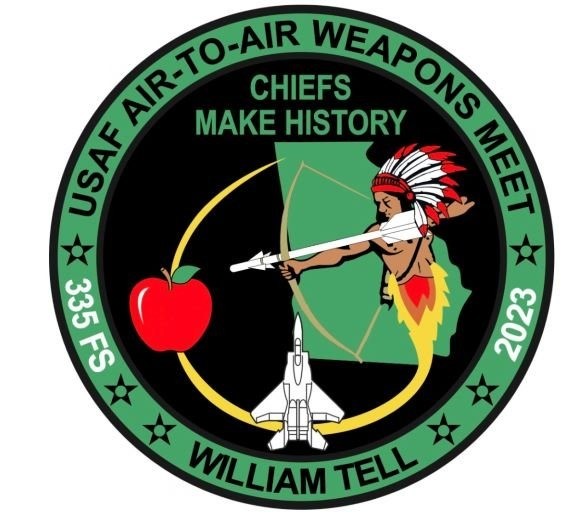 The historic fighter aircraft competition is named after legendary Swiss archer, William Tell. It began as a bi-annual competition in 1954 that encouraged the most challenging air-to-air scenarios. The competition was placed on hold due to military operations and contingency requirements in 1996.
In addition to the 4th FW, other teams from across Air Combat Command, Pacific Air Forces and the Air National Guard will compete in this air superiority-focused event.
"We want to send the 4th FW's best aircrew," said Capt. Andrew Munoz, 335th Fighter Squadron evaluator pilot and 4th FW William Tell team member. "There's a lot of different factors that I took into consideration when choosing my team."
The 4th FW team members were chosen based on their experience and performance.
The 2023 4th Fighter Wing's William Tell team members are:
Team Captain: Maj. Daniel "SLASH" Hutto
Instructor Qual: Pilot: Capt. Andrew "PAÑIC" Munoz Weapons System Operator: Capt. Richey "BREAUX" Menard
Wingman Qual: Pilot: Capt. Sean "WOLF" Sutedjo WSO: Capt. Noel "SP" Zamot
Any Qual: Pilot: Maj. Malcolm "REHEAT" Richards WSO: Capt. George "KING" Welton
Any Flight Lead: Pilot: Capt. Devin "CUJO" Beaulieu WSO: Capt. Eric "DIVE" Carter
Intelligence:
Senior Airman Elliot "DRAG" Atwell
Senior Airman Hannah "SHADE" Garcia
Maintenance:
Master Sgt. Christopher Oles
Staff Sgt. Jashaunn Jasper
Senior Airman Aaron Woods
Senior Airman Grace Forgey
William Tell 2023 will be the first time the 4th FW and the F-15E Strike Eagle will compete. The 4th FW is known for its strong culture of teamwork and dedication to mission accomplishment. Its pilots, maintainers, and support personnel work together seamlessly.
"Ultimately the goal is to win," said Munoz. "I want to win, so that the 4th FW is named number one in the air dominance category."
According to an ACC press release published April 17, 2023, the competition will test aircrew performance in air superiority, while evaluating weapons use and tactics used. Additionally, the competition will include weapons loading, maintenance and weapons' director competitions.
"We're taking the Raytheon 2022 Trophy winners and that says a lot to show up at a dominance competition with the heart of the team being the Raytheon Trophy winners," said Munoz. "We're going to make a name for ourselves, we'll add our name to the William Tell."
The resurgence of William Tell prepares Airmen for real-life combat operations. The advanced scenarios and experienced competitors will provide the opportunity to drive new development in air-to-air combat.
"[I'm] looking forward to being a big part of it [William Tell] and looking forward to seeing what the Air Force does in the future," said Master Sgt. Christopher Oles, 335th Fighter Generation Squadron production superintendent and 4th FW William Tell team member.
William Tell will display the Air Force's precision and expertise in air-to-air combat. From the ground crews to the pilots, every team involved will work tirelessly to showcase their skills and mastery of their craft.
"William Tell is a great chance for our team to showcase their capabilities in a realistic and demanding air combat environment," said Col. Morgan Lohse, 4th Operations Group Commander. "Air Dominance is a team sport, from the maintainers who generate the jets, to the weapons loaders who ensure we have the right munitions, to the pilots and WSOs who fly the missions. It takes a capable team on the ground and in the air to secure the skies."
As the 4th FW continues to prepare to test their skills the tension builds and the anticipation grows, only one question remains: who will come out on top?