By Senior Airman Lynette M. Rolen, 18th Wing Public Affairs / Published February 13, 2017
As a fifth grader growing up in Arkansas, all Jordan Carr could think of was becoming a fighter pilot in the U.S. Air Force.
Now 1st Lt. Jordan Carr, 67th Fighter Squadron pilot, has finally achieved his childhood dream.
"We had to do a newspaper article about what we wanted to do for our future career," said Carr. "I wrote about how when I grew up, I wanted to be a fighter pilot in the U.S. Air Force. From then on, I thought, 'Ok, now everything I do, I can work toward this and always have a goal, even if it's super long-term and I'm only a fifth grader, I can make it happen.'"
Throughout all of this time, over 16 years, Carr had support from his family, especially his two older brothers who have successful Air Force careers.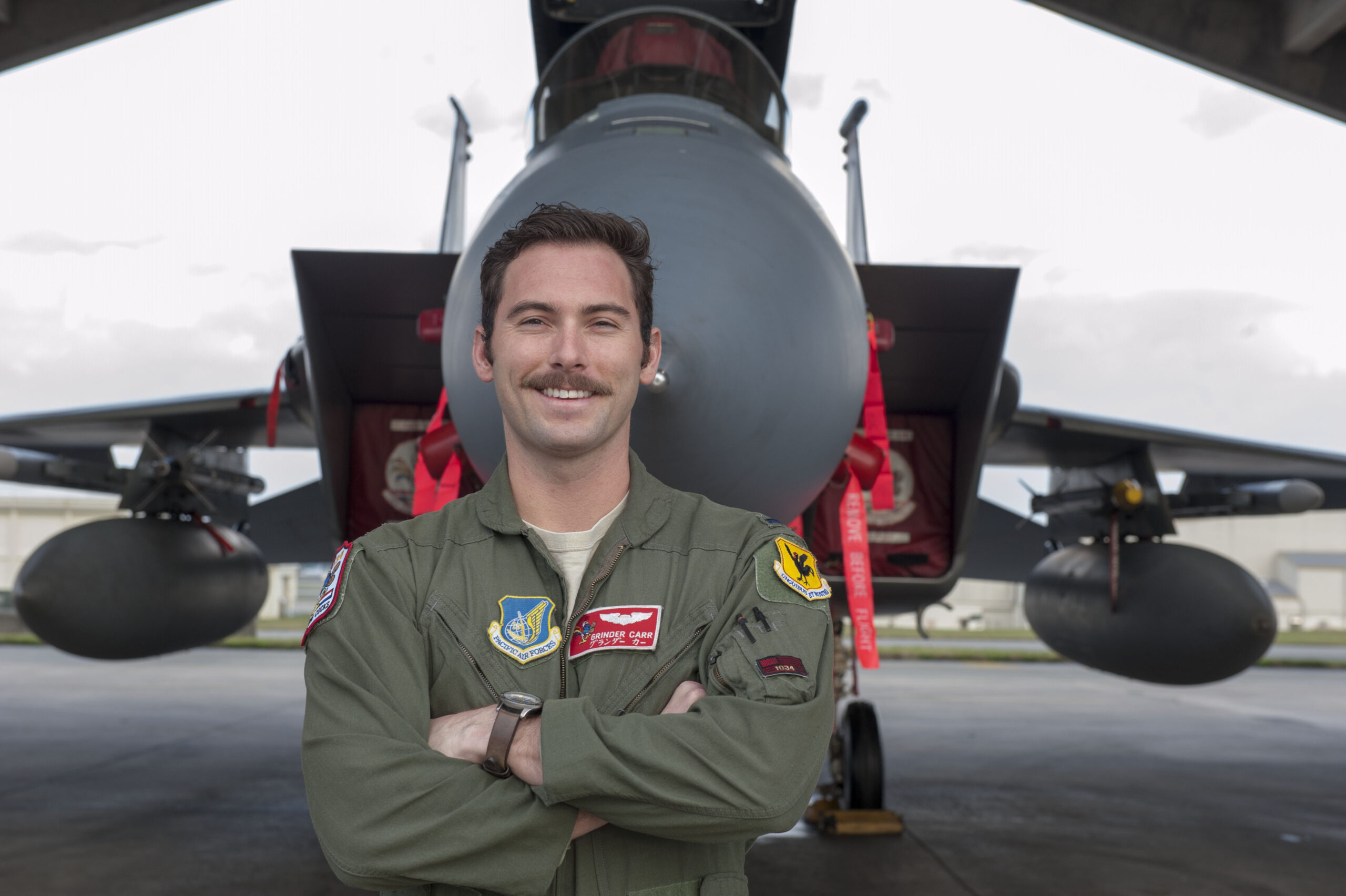 Carr further stated the guidance and encouragement provided by his family and role models kept him on his path to becoming a fighter pilot.
Carr graduated from the University of Arkansas' Air Force ROTC program in 2013.
Now, he's a fighter pilot who's living out his childhood dream and is living proof of how long-term goals can be achieved.
"It feels great knowing if you set a goal, anything is possible," said Carr. "Much like any other career, achieving the initial title is just the beginning and now you essentially have a license to learn. Every day is a constant reminder that you can learn something new, polish a skillset, or focus on a weak point in order to better yourself and others."
As a reminder of his childhood goals, Carr's mother kept the article from his childhood to the present day.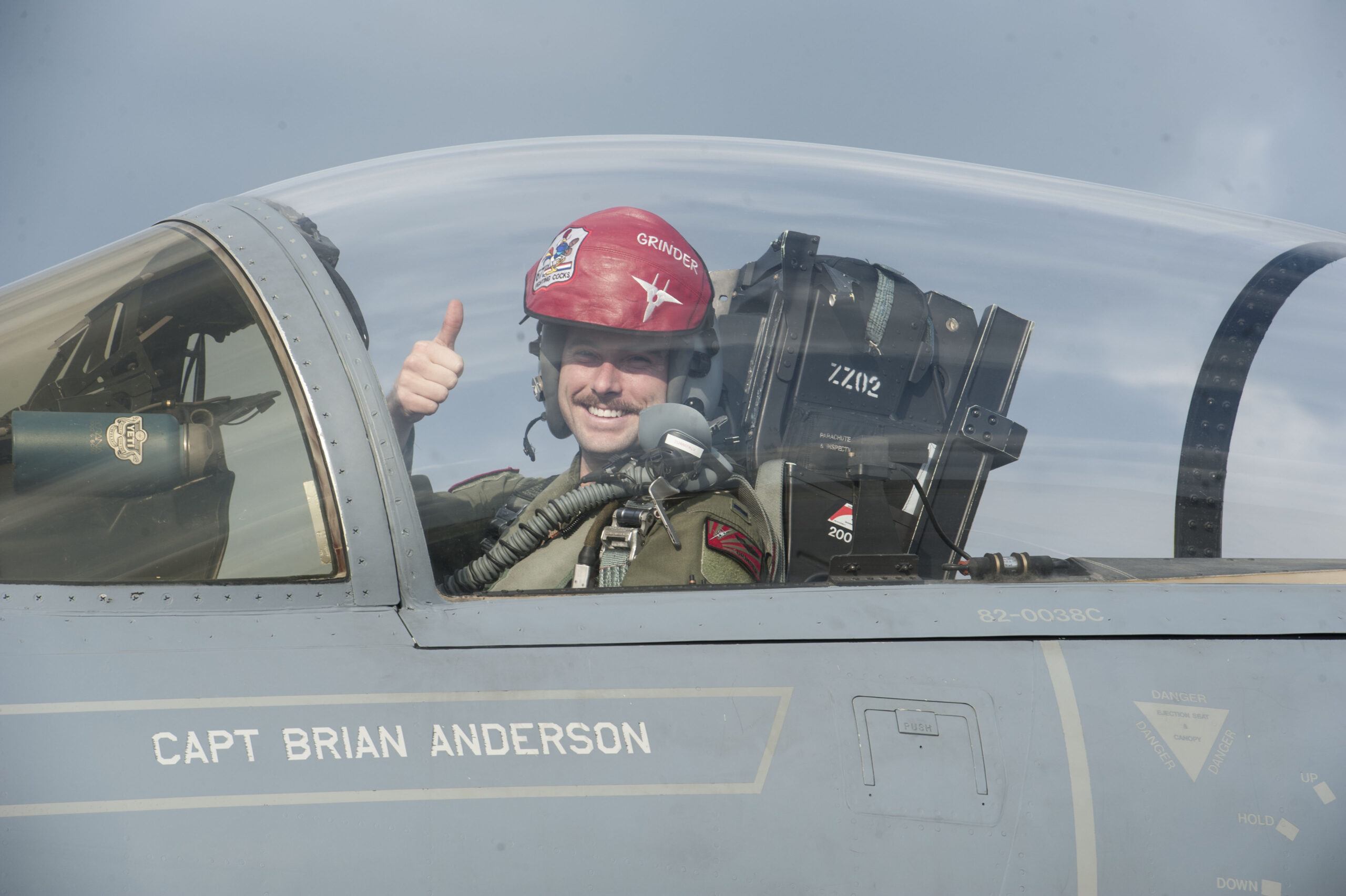 "When I came out here, my mom framed the newspaper article from fifth grade," said Carr. "I'm living the dream. There are a lot of fun things about being a fighter pilot. It's exhilirating to fly fast and be tactically minded during the flight, but it's also a lot of hard work."
In addition to flying, Carr monitors several additional duties. Although it's hard work, Carr commented he enjoys his job and finds it rewarding.
"Carr's most notable characteristic is his positivity," said Capt. Gregory Schroeder, 67th FS weapons officer. "He's never pessimistic and his positive demeanor influences everybody else. He works with maintainers frequently and is a great wingman."
Carr enjoys working with maintainers because it provides him with an opportunity to share his enthusiasm about his job.
"One of my favorite parts of the job is being able to share it with others," said Carr. "When we do incentive flights for the maintainers, you're able to showcase what their hard work is going toward. It's an awesome way to thank them."
Carr said he also enjoys sharing information about his job with his family.
"It's always fun to tell them what's going on," said Carr. "Especially when my two older brothers speak the language (of being a pilot) and we can talk about the nature of the work and the fun things about it."
"The 18th Wing is successful because Airmen like 1st Lt. Carr are not satisfied with the status quo," said Capt. Robert Hendrick, 67th FS assistant director of operations. "He has spent long hours during the week and many weekends at the squadron preparing for training missions and ensuring the rest of the squadron has the tactical tools to succeed."
Hendrick further commented Carr's dedication helps the 67th FS maintain a tactical edge and contributes to 18th Wing mission success.
"There are a lot of little cogs that make up the big picture," said Carr. "I think it's easy to get tunnel vision, so it's important to step back and realize we're all part of a team. No community is better than another. Remaining humble keeps our (Eagle) team performing at a high level while encouraging positive integration with other units."