Story by Airman 1st Class Leighton Lucero
Nov 11, 2023 SEYMOUR JOHNSON AIR FORCE BASE, North Carolina – In the hangars on Seymour Johnson Air Force Base, Airmen with oil-stained uniforms and tools in bruised hands prepared fighter jets for flight. Once the jets are ready the pilots and Weapon Systems Officers (WSO) encased within them took to the sky, ready to maintain air-dominance anytime, anywhere and against any foe in support of global interests.
The effort of these men and women, help the U.S. Air Force maintain itself as the strongest and most resilient airpower in the world. Since 1953, the Raytheon Trophy has been awarded annually to the top air-superiority or air-defense squadron in the U.S. Department of the Air Force.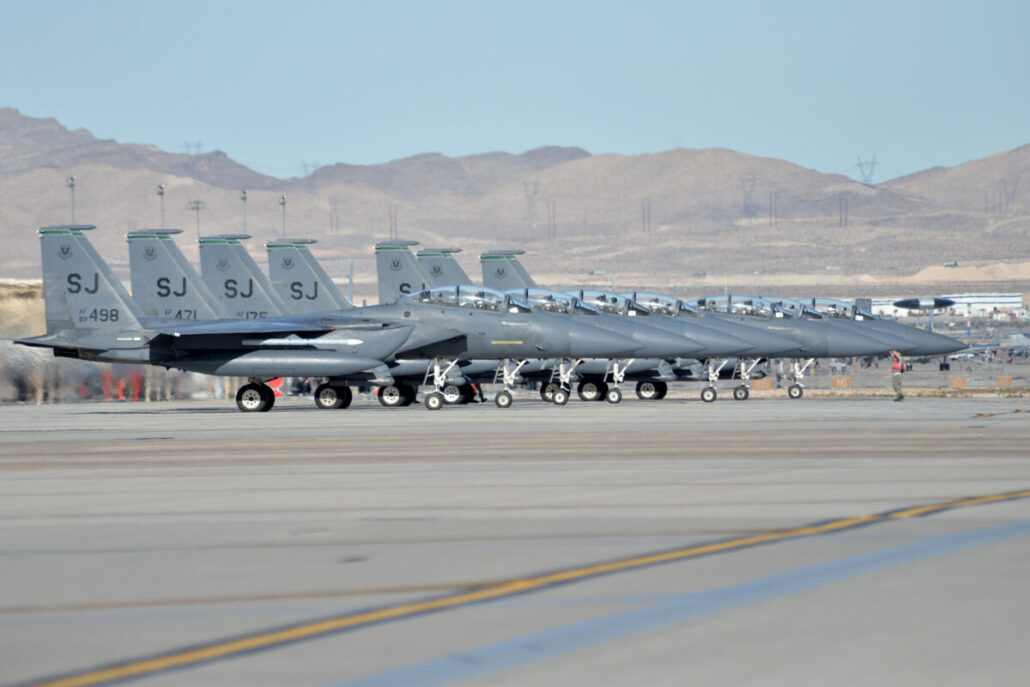 The 335th Fighter Squadron, known as the 'Chiefs,' have received the coveted award for 2022. It is the first Raytheon Trophy awarded to an F-15E Strike Eagle fighter squadron in Air Combat Command history. Their exceptional show of force on the world stage, as well as the success of training exercises in fiscal year 2022, set them apart from their peers in a very competitive field of fighter squadrons across the Combat Air Forces.
The squadrons are graded on mission performance, exercise performance, organizational readiness inspection results and several other factors. Throughout their deployment, they flew over 1,400 sorties, logged over 4,000 flight hours, dropped over 150 bombs and shot 4 AIM-9Xs. The AIM-9X is called the Sidewinder missile, and it tracks its target with heat seeking capabilities.
Additionally, in calendar year 2022, the 'Chiefs' completed 11 temporary duty travels and 29 gold-standard agile combat employment events. They also led the Air Force's largest F-15 Wing to train 97 Airmen/crew to be combat ready in a single year. Additionally, the 'Chiefs' provided defensive counter air throughout the USCENTCOM area of responsibility while simultaneously executing armed overwatch and close air support for 115 friendly positions in theater.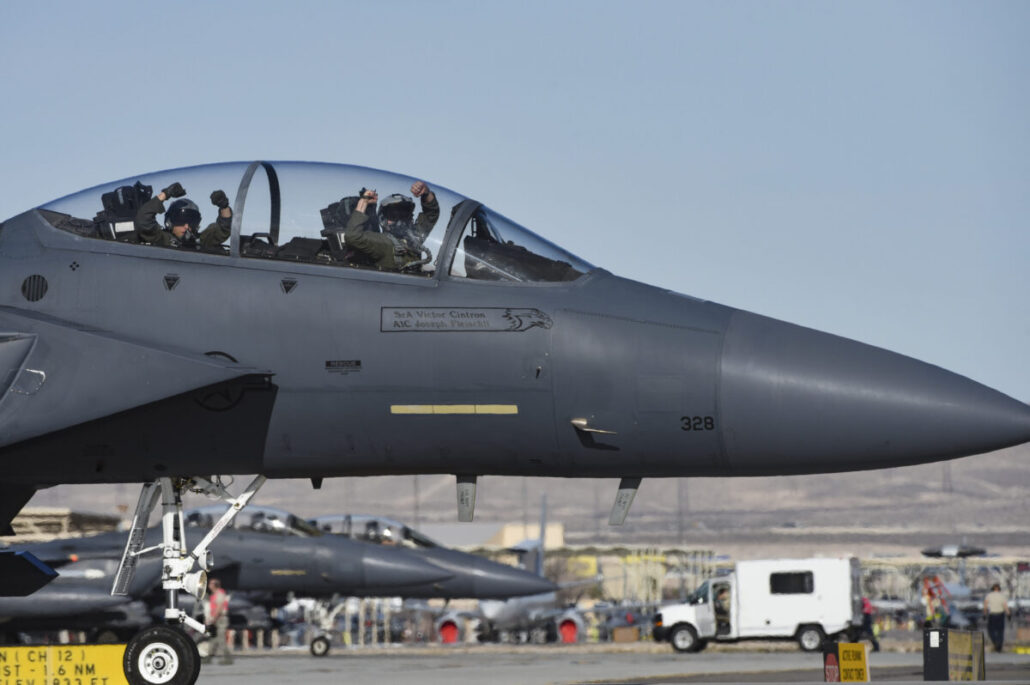 While maintaining air dominance and supporting ground positions in five countries, the 'Chiefs', as mission commanders, simultaneously executed President of the United States (POTUS) directed strikes with 18 bombs on nine hostile pivotal infrastructures.
"This award is a huge honor," said the 335th Fighter Squadron Commander. "There are 48 other multi-role fighter squadrons in the United States Air Force and the Chiefs were the first unit on SJAFB to win it. The 'Chiefs' utilize F-15E Strike Eagles, making us one of three total F-15 squadrons to ever win the award."
Out of all the fighter squadrons in the force, the 'Chiefs' maintainers, pilots and WSOs excelled above the rest. Their diligence, determination and lethality enabled them to accomplish various missions.
"Winning this award shows that the 4th Fighter Wing is still a very lethal and credible wing," said the 335th Fighter Squadron Commander. "The 335th FS definitely demonstrated their capabilities down range. The camaraderie they show for being chosen as the top air-dominance squadron in the U.S. Air Force, in 2022, gives us a lot of pride. It is a huge accomplishment for Team Seymour and the Chiefs!"