The Air Force wrapped up its first William Tell Air-to-Air Competition in 19 years on Sept. 15, at the Air Dominance Center in Savannah, Georgia.
Airmen from across active and guard wings participated in William Tell 2023, which tested aircrew performance in air superiority, weapons and tactics use, weapons loading, maintenance, command and control, intelligence and weapons director competitions.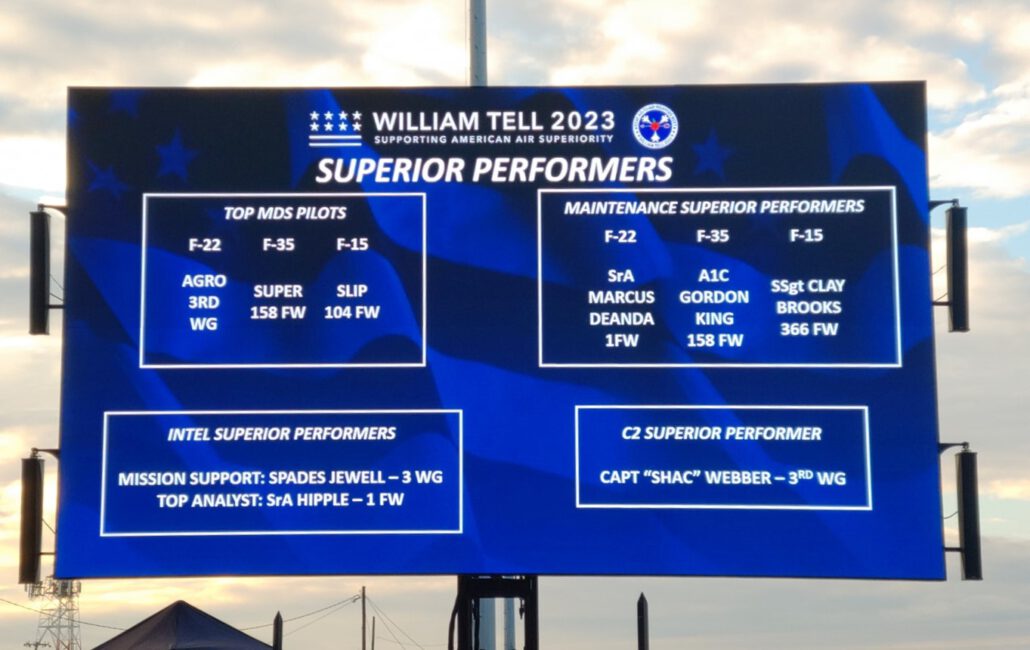 "Rule number one for fierce competitors is when the competition is over, you celebrate and congratulate the winners," said Gen. Mark Kelly, commander of Air Combat Command.
The week-long event showcased the air-to-air capabilities of the F-22 Raptor, F-35 Lightning II and F-15 Eagle and Strike Eagle units representing various Air Combat Command, Pacific Air Force and Air National Guard units.
The winners were announced at the William Tell 2023 Closing Ceremonies Friday night.
2023 Winners:
Major Richard I. Bong Fighter Integration Trophy – 3rd Wing, 366th FW, 388th/419th FW
Big Eye Task Force Top C2 Wing – 552nd ACW
Lieutenant Colonel James H. Harvey, III Top F-15 Wing Award – 104th FW
Captain Eddie Rickenbacker Top F-22 Wing Award – 1st FW
Brigadier General Robin Olds Top F-35 Wing Award – 158th FW
Colonel Jesse C. Williams Top Intel Tradecraft Wing Award – 1st FW
Chief Master Sergeant Argol "Pete" Lusse Maintenance Team Award – 1st FW
Top F-15 Crew Chief – 366th FW
Top F-22 Crew Chief – 1st FW
Top F-35 Crew Chief – 158th FW
F-15 Individual Superior Performer – 104th FW
F-22 Individual Superior Performer – 3rd WG
F-35 Individual Superior Performer – 158th FW
Overall Weapons Load Competition – 104th FW
"Take the camaraderie, lessons learned and the spirit of competition from this week back home," said Lt. Gen. Russ Mack, deputy commander of Air Combat Command. "Challenge yourselves to improve your units, improve your units to increase mission readiness, and increase mission readiness to develop a culture of competitive endurance."
"We must keep our adversaries continually arriving at the realization that today is not the day," said Mack. "Not the day to mess with the United States of America and not the day to mess with the U.S. Air Force. The best in the world and second to none."
The historic competition was named after the legendary Swiss archer and was previously a biennial competition that encouraged the most challenging air-to-air scenarios since 1954. The meet was placed on hold for the past 19 years because of military operations tempo and contingency requirements.
During the 19-year hiatus, the Air Force has grown its fleet to include 5th generation aircraft, prioritizing integrated fighter tactics as it faces near-peer threats.
While the U.S. Air Force still maintains a steady operations tempo, William Tell planners hope resuming the event will foster the exchange of tactics and better prepare Airmen for combat operations.