By Master Sgt. Charles Vaughn
The California Air National Guard's 144th Fighter Wing completed over 100 sorties and 190 flying hours during Sentry Aloha 2021 an exercise conducted from Aug. 11 to Aug. 25 in and around the air spaces surrounding Hawaii.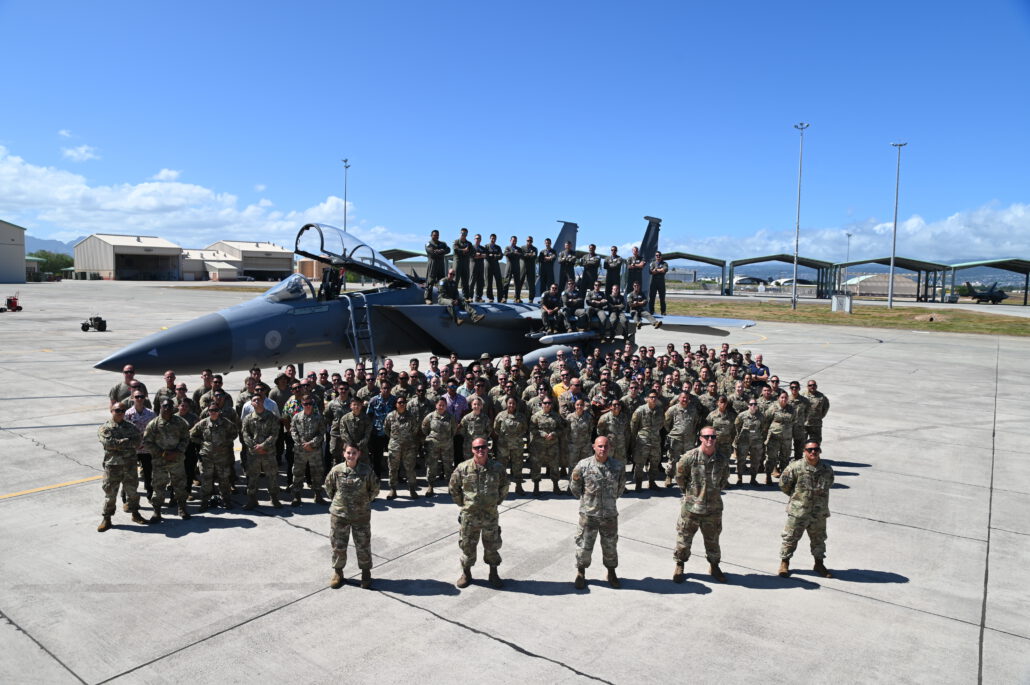 Sentry Aloha is an ongoing series of exercises hosted by the Hawaii Air National Guard's 154th Wing, enabling tailored, cost effective and realistic combat training for the Air National Guard, U.S. Air Force, and other Department of Defense services. It provides U.S. service members with necessary skill sets to perform homeland defense and overseas combat missions.
More than 350 Airmen and numerous aircraft, including KC-135 Stratotanker's assigned to units out of New Jersey, Washington and Maryland, F-15C Eagles assigned to California Air National Guard's 144th FW, and F-22 Raptors assigned to the 199th and 19th Fighter Squadrons participated in the training led by the Hawaii Air National Guard. Two training missions were carried out daily; one in the morning and a second in the afternoon.

"This type of training is crucial," said Captain Austin Morris, an F-15C pilot and the 144th FW project officer for the Sentry Aloha Exercise. "It is highly valuable to get out and do large force exercises with other fighter units, doing fighter integration training to advanced and near-peer threats. "

While the aircraft and pilots assigned to the 144th FW practice combat sorties on a regular basis, the ability to fight against and with the Hawaii based F-22 Raptors over the waters around Hawaii offers a more diverse and realistic training environment. This leads to heightened levels of readiness for pilots and the hundreds of support Airmen from a broad variety of career fields.
"When we do fighter integration with other 4th and 5th gen. assets we become a lot more lethal and effective in our given mission sets," added Morris.
The fighter pilots weren't the only ones involved with the exercise. Several supporting sections from the wing traveled by military airlift to accomplish this training exercise.

"Large scale exercises such as Sentry Aloha are like a puzzle and require a good amount of planning and coordination to make sure we have the team we need to generate, deploy and sustain the aircraft and personnel," Morris said. "From logistics and support functions to the maintenance operations, all aspects of the air enterprise are put to the test, and as a result we receive invaluable training from the experience."
Similar to real-world operations, the success of each missioned relied on the dedicated maintenance and support effort provided by the maintainers of the 144th FW. Two-shift operations ran smoothly over the length of the exercise, enabling a solid sortie execution rate and an extensive amount of flying hours.
"These types of exercises give us the opportunity to practice our trouble shooting and repair skills in an environment where resources may not be readily available," said Tech. Sgt. Chuefue Xiong, a 144th Maintainer and shift lead for the electric shop. "It's a really good way to gauge where we are as far as our proficiency is concerned."
After months of preparation, three weeks of hard work, and taking in the Hawaiian sun, it was time for the men and women of the 144th Fighter Wing to head home