If any of you are struggling to find the perfect Christmas gift. Here are four top suggestions. Absolute must reads for any Eagle fan and military Aviation aficionado!!
Wingman at War written by Matt Beals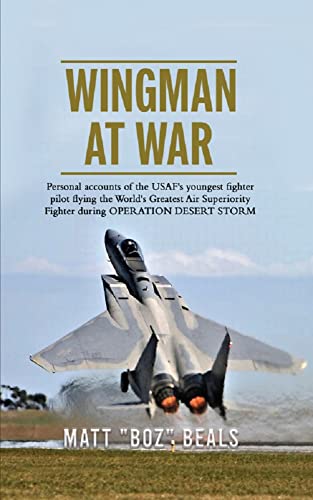 is a first-hand, earnest, exciting, and heartfelt journey into the cockpit and beyond of a talented young fighter pilot suddenly called into combat without prior notice or fanfare. Derived from a personal journal kept completely secret from the world until now, the author Matt "Boz" Beals, takes the reader on a flight of a lifetime as the youngest F-15C Eagle pilot flying combat in the Persian Gulf War.
Raw, unencumbered, and without agenda, this brand-new mission ready wingman tells the remarkable story of deploying, flying, fighting, and winning the air war over Iraq during OPERATION DESERT STORM. Detailed, real-time accounts of MiG kills, surface-to-air missile engagements, lethal anti-aircraft artillery, fiery explosions, harrowing airborne encounters, and near-death experiences in the skies over Iraq keep the reader engaged throughout. Mixed with a humor, refreshing exuberant honesty, and the perspective that only a 24-year-old fighter pilot can uniquely offer; Boz, the author, passionately brings to life the good, the bad, and the ugly of combat operations out of Incirlik Air Base, Turkey and OPERATION PROVEN FORCE as no other account previously has.
Victories won, mistakes made, lessons learned, heartaches endured, frustrations voiced, and celebrations had; nothing is off limits in this behind-the-scenes look at flying in the combined air superiority super squadron that affectionately became known as the "War Dogs." Faith, teamwork, leadership, mentorship, and action galore are presented with clairvoyant historical perspective and epic life quotes that jump off the pages in this vibrant, in-the-moment account. The action is non-stop with something inside for every reader to thoroughly enjoy as if they were in the cockpit and beyond with "BOZ."
What are you waiting for Click on this link "Wingman at War" to order your copy now! Enjoy
Fighting Aardvarks and Eagles: written by Terrance "Marco" McCaffrey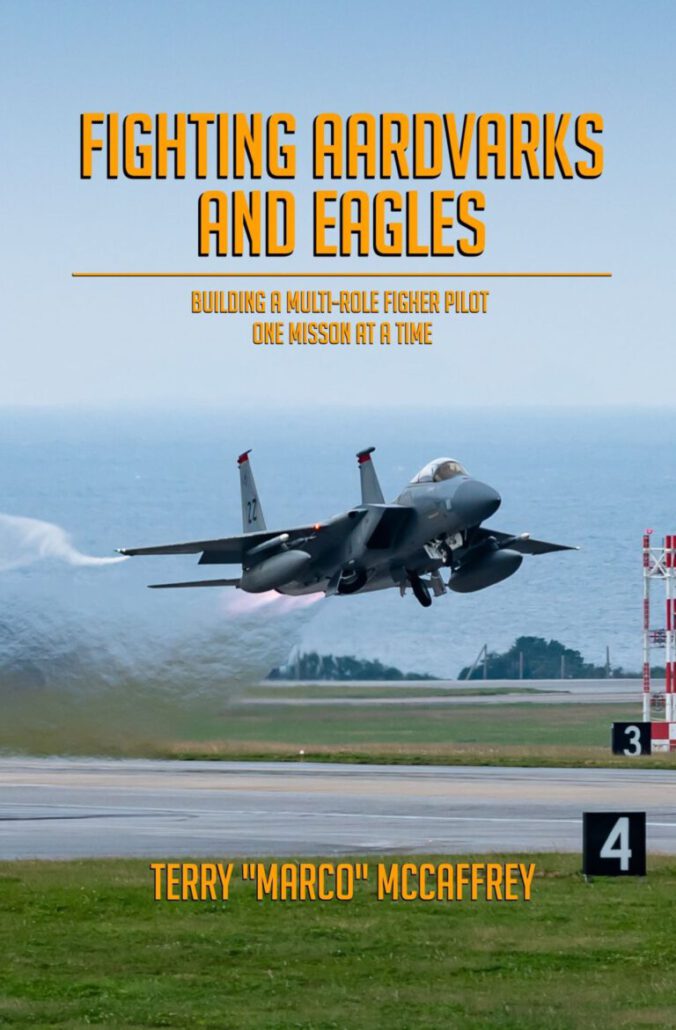 A unique insight into a young high-school graduate who moves to the USAF Academy and learns to be an Air Force officer and a pilot. It explores the development of a fighter pilot in the world's best Air Force at the peak of its powers, flying missions in Operation DESERT STORM, followed by 10 years of deployments for Operation SOUTHERN WATCH over Iraq, and then living in the aftermath of 9-11 and the changing world of the Global War on Terror. It follows him as he discovers what is it like to serve in the USAF for a 30-year span that moved from the relative security of the Cold War to the insecurity created by vacuums of political power that continue today. The reader experiences a USAF career by riding along with the author and his family through 19 home moves all over the world, discovering what is it like to progress from combat pilot to leading major organizational change as the US military began to refocus in a new age of politics, fragile peace, and uncertain economic future.
What are you waiting for Click on the link "Fighting Aardvarks and Eagles" to order your copy now! Enjoy
MISSION READY INSIDE THE BEST RIGHTER SQUADRON OF THE U.S. AIR FORCE photos by Patrick "Red" van Dam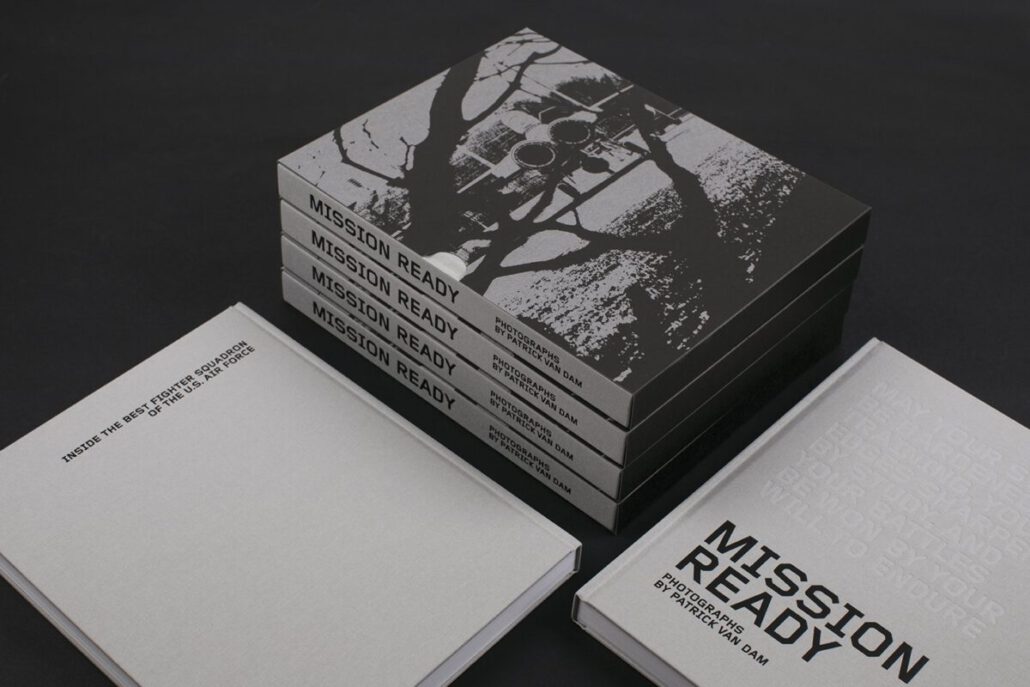 Mission Ready is a visual narrative about a world that's not accessible to most of us. Until now. Documentary photographer and creative director Patrick van Dam gives us a realistic and uncensored insight into the "Best Fighter Squadron of the U.S. Air Force". Through compelling images, he offers an insider perspective of the legendary 493rd Fighter Squadron's daily operations. This is not Top Gun. This is better. This is real.
From 2016 to 2021, Van Dam was granted access to several restricted military airbases and experienced first-hand what it takes to be a fighter pilot during a training mission in an F-15 Eagle. His contemporary photography is never shy of demystifying a sometimes romanticized world, yet always with an aesthetic point of view.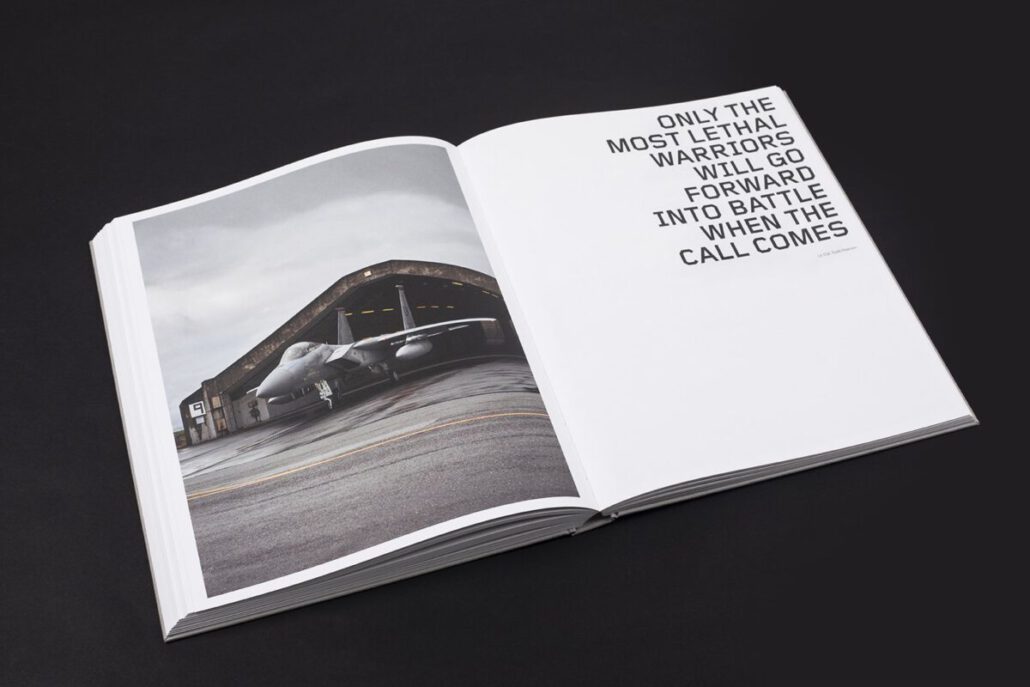 he photographs are complemented by stories from prominent "Grim Reapers" like Gulf War veteran and three-time "MiG Killer" Col. (Ret.) Cesar "Rico" Rodriguez. The result is a gripping book about an organization with unspoken rules and principles that takes pride in its honor and bravery.
The 493rd Fighter Squadron, also known as the "Grim Reapers", is a combat mission-ready squadron and provides air-to-air offensive and defensive support for the United States and NATO operations. It is part of the United States Air Forces in Europe (USAFE), located at RAF Lakenheath, United Kingdom. The 493rd was the last squadron in Europe flying the F-15 Eagle. Since 1994, they have conducted air superiority missions in the Balkans, Middle East, and Baltics. Since 1994, the 493rd has been awarded the coveted Raytheon Trophy for being the top Air Superiority Squadron of the U.S. Air Force, no less than six times. A unique and unconquered achievement.
In 2022, the squadron transitioned to the new 5th-generation F-35A Lightning II, marking the end of an era for the presence of the F-15 Eagle in Europe.
What are you waiting for, get this unique book and click on "MISSION READY " to order your copy now! Enjoy
Call-Sign KLUSO: An American Fighter Pilot in Mr. Reagan's Air Force written by Rick "Kluso" Tollini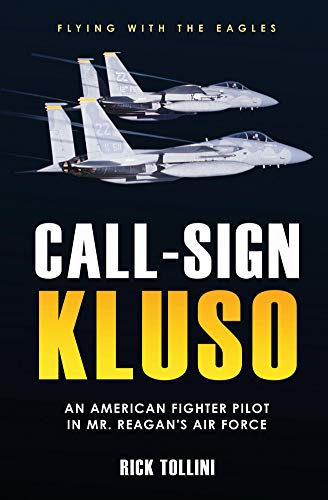 Eagle pilot Rick "Kluso" Tollini's life has embodied childhood dreams and the reality of what the American experience could produce. In his memoir, Call Sign KLUSO, Rick puts the fraught minutes above the Iraqi desert that made him an ace into the context of a full life; exploring how he came to be flying a F-15C in Desert Storm, and how that day became a pivotal moment in his life.
Rick's first experience of flying was in a Piper PA-18 over 1960s' California as a small boy, and his love of flying through his teenage years was fostered by his pilot father, eventually blossoming into a decision to join the Air Force as a pilot in his late twenties. Having trained to fly jets he was assigned to fly the F-15 Eagle with the "Dirty Dozen," the 12th Tactical Fighter Squadron, at Kadena AB, Japan before returning Stateside to the 58th Tactical Fighter Squadron "The Gorillas." Throughout training, Reagan's fighter pilots expected to face the Soviet Union, but Rick's first combat deployment was Desert Storm. He recounts the planning, the preparation, and the missions, the life of a fighter pilot in a combat zone and the reality of combat. Rick's aerial victory was one of 16 accumulated by the Gorillas, the most by any squadron during Desert Storm.
Returning from the combat skies of Iraq, Rick continued a successful fulfilling Air Force career until, struggling to make sense of his life, he turned to Buddhism. His practice led him to leave the Air Force, to find a new vocation, and to finally come to terms with shooting down that MiG-25 Foxbat in the desert all those years before. Most importantly, he came to a deeper understanding of the importance of our shared humanity.
What are you waiting for Click on this link "Call-sign Kluso" to order your copy now! Enjoy