Air Force to replace F-15s on Okinawa with more advanced fighters on rotation.
TOKYO — The Air Force will withdraw its two squadrons of F-15 fighters on Okinawa over two years starting Tuesday and replace them with rotational squadrons of more advanced fighters, an Air Force spokeswoman said Friday.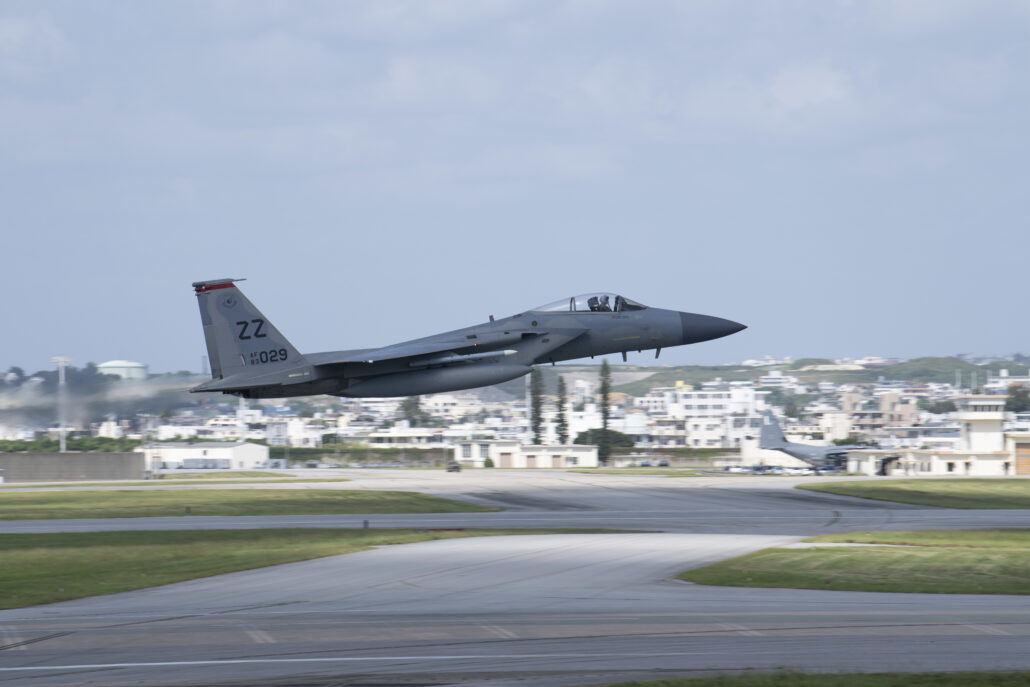 The Department of Defense "will commence a phased withdrawal" of F-15 C/D Strike Eagles deployed to Kadena Air Base, spokeswoman Ann Stefanek said in an emailed statement provided by Kadena to Stars and Stripes on Friday evening.
Published reports Thursday and Friday said the rotational aircraft will come initially from F-22 squadrons in Alaska.
The decision affects about half the fleet of the aging U.S. fighters stationed in Japan and comes as the U.S. grapples with a rapid military buildup by China. Some questioned the move as sending the wrong signal about U.S. military commitment in the region at a critical time.
"The message to China is the U.S. is not serious about reversing the decline in its military forces," David Deptula, former vice commander of Pacific Air Forces and a retired F-15 pilot, told the Financial Times newspaper for a report Thursday. "This will encourage the Chinese to take more dramatic action."
The Air Force is retiring its aging F-15 C/D fleet of aircraft that has been in service more than 30 years, Stefanek said.
"The transition to more capable aircraft at Kadena exemplifies our continued commitment to enhancing our posture and building on the strong foundation of our Alliance with Japan," she said.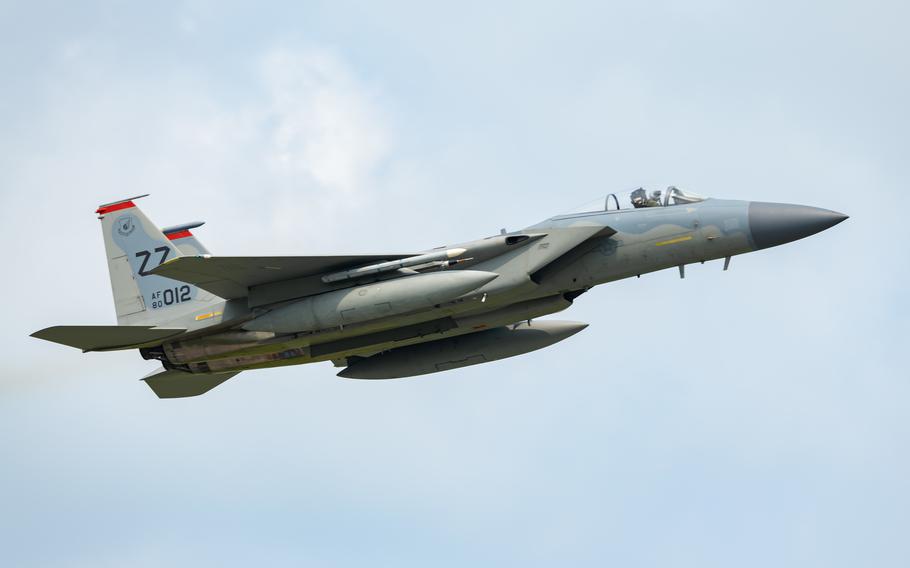 DOD will maintain a steady presence at Kadena by rotating units of newer and more advanced fourth- and fifth-generation aircraft to backfill the F-15s as they retire, she said. Her statement did not address where the rotational aircraft would come from.
"While we have not made a decision on the long-term solution, all of the proposals under consideration include advanced capabilities that are superior to the F-15C/D," Stefanek said. "Until that decision is made, DoD will continue to use the Global Force Management process to provide backfill solutions that maintain regional deterrence and bolster our ability to uphold our Treaty obligations to Japan."
The U.S. plan calls for as many F-22s as there are F-15s currently at Kadena to deploy there for about six months starting in early November, a spokesman for the Japanese Ministry of Defense told Stars and Stripes by phone Friday. A greater number of F-22s may be deployed temporarily, the ministry spokesman said.
"The plan by the U.S. side does not weaken deterrence but is being conducted to maintain and to strengthen deterrence and response capability of the Japan-U.S. alliance as the security environment is becoming increasingly severe, " the spokesman told Stars and Stripes Friday by phone. "And we believe it is necessary for the Japan-U.S. alliance."
Government spokespeople in Japan customarily speak to the media on condition of anonymity as a requirement of their position.
The Financial Times first reported the story, followed by Defense News on Friday. Both reports relied on multiple, anonymous sources.
Kadena Air Base on Okinawa is home to 48 F-15C/Ds of the 18th Wing's 44th Fighter Squadron "Vampires" and the 67th Fighter Squadron "Fighting Cocks." The Air Force also has F-16 Fighting Falcons at Misawa Air Base in northeastern Honshu, the largest of Japan's four main islands.
The F-15, built by McDonnell Douglas, has an unmatched record of 104 kills and zero losses since it entered service in 1976. The Strike Eagle can travel 1,875 mph, more than twice the speed of sound, according to the Air Force's official website.
Initial Air Force plans call for replacing the two Okinawa squadrons with rotating units of F-22 fifth-generation stealth fighters based in Alaska, according to the Financial Times report.
It's too early to know if the rotational presence will be temporary or simply an interim measure until a new generation of fighters is positioned permanently on Okinawa, Ralph Cossa, president emeritus of the Pacific Forum think tank in Hawaii, said in an email Friday.
The Air Force may save money by rotating squadrons through Kadena rather than supporting the families of permanently stationed forces, but unaccompanied tours often mean morale problems, he said.
"Tokyo might also see this as a reduction in U.S. commitment even as Okinawans may see it as less burden," he said.
Islanders protest regularly about the presence of U.S. forces, whose facilities take up a significant portion of Okinawan land.
A base realignment plan calls for thousands of Marines stationed on the island to relocate to new facilities on Guam that are being funded by the Japanese government.
The idea of withdrawing a permanent force "doesn't sound very good," according to James Brown, an international affairs expert at Temple University's Japan campus.
The move may push forward the argument that Japan needs to do more to defend itself and supplement the alliance with the U.S., he said.
It could, however, be seen as modernizing U.S. air assets in Japan, he told Stars and Stripes by phone Friday. The first F-15s arrived at Kadena in the 1970s.
"You can't leave the F-15s there forever," he said. "This rotational approach as a short-term solution is about the best there is as an option."
The F-15s' departure will mean fewer dependents living on Okinawa, but it won't necessarily lead to better community relations, he said.
"Maybe it is better to have people there for longer who have a better understanding of the community and cultural norms in Japan," he said. "With rotational forces you have more newcomers."