By 1st Lt. Karissa Rodriguez
The third Emerald Flag large force test event in eight months wrapped up at Eglin here last week.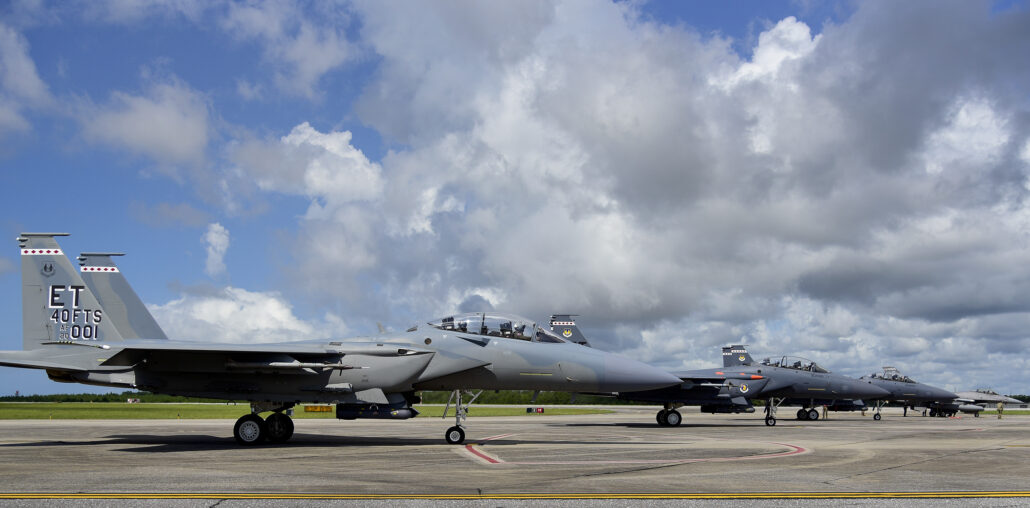 With each iteration of Emerald Flag, test professionals analyze the connectivity between air, land, ground, sea, space and cyberspace. The test aims to connect those different systems to improve the speed and accessibility of information shared in a live and virtual battlefield.
In first, EF was a cross-service live, virtual event with Orange Flag, a similar activity, at Edwards AFB, California.  The OF players participated utilizing the 96th Cyberspace Test Group's Joint All Domain Command and Control lab and Datalinks Test Facility.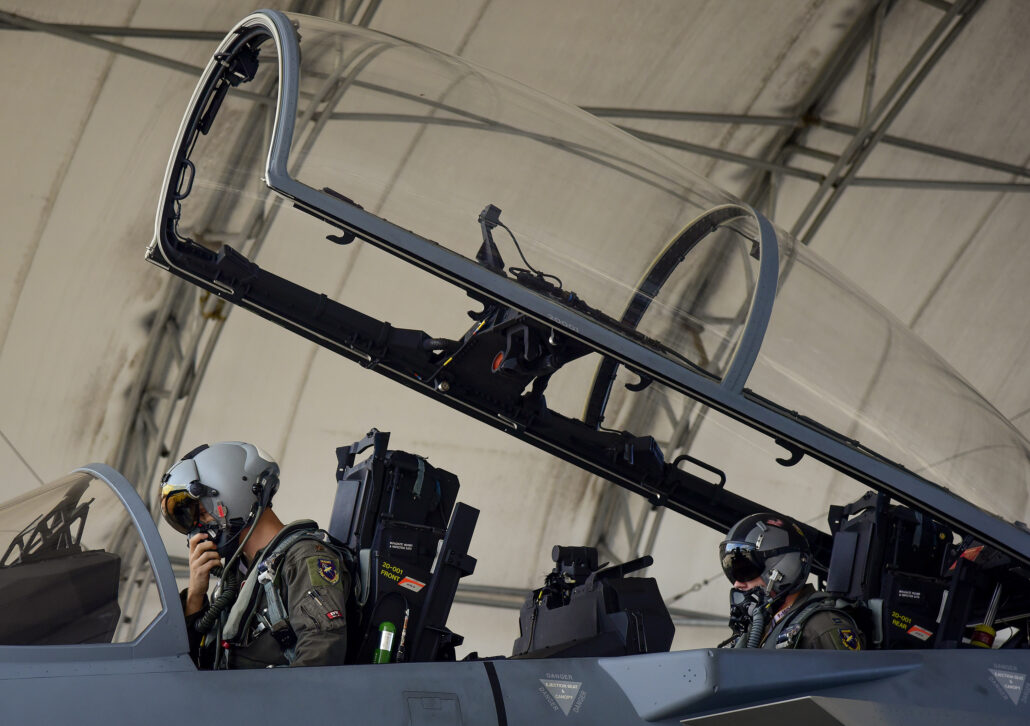 Test execution took place during two separate Orange Flag and Emerald Flag events and were connected through the Joint Tactical Integrated Fire Control network. This network securely passed live and virtual data between the events and Army, Navy and Air Force communication systems.
"Emerald Flag and Orange Flag integrated their events by passing fifth and fourth-generation aircraft datalinks across the United States and between multiple command and control centers in a live and virtual battlefield," said Capt. Joseph Haggberg, Emerald Flag deputy director.
Participants and observers in locations across the country were able to see a combined operating picture of real and simulated assets from both Orange Flag and Emerald Flag. This partnership in test integration is a stepping stone to further develop adaptive long-range, kill-web capabilities.
"It's vital the services evaluate the alternatives and methods of how information is passed between platforms and command and control centers to give our operators not only a robust means to employ their weapon systems but multiple avenues to be effective in a future fight," said Haggberg.
The Low-Cost Threat Emitter, which debuted in the first quarter EF, returned to test alongside the F-15EX Eagle II, the Air Force's newest fighter aircraft.
The Eagle II used its new electronic warfare suite, putting the software into practice in a contested environment for further development. The EX would try to locate the LCTE, among other aircraft, as a target and training aid.
"Being able to take the F-15 EX with new software and new sensors and integrate it into a multi-domain atmosphere enabling kill chains is a win," said Maj. Ryan Stec, Emerald Flag air operations officer. "Through the planning and execution process, both developmental and operational tests learned valuable lessons to integrate more efficiently. We want this aircraft ready for the warfighter."
A combined Strategic Development Planning and Experimentation Office and Air Force Research Lab project using an XCub general aviation aircraft also returned to EF. It's focus was evading enemy detection and performing downed pilot recovery. The testing moved the project closer to testing the Low Altitude Sensing Helmet kit, a prototyping effort intended for night-vision capabilities. The XCub demonstrated landing safely on Eglin's beaches and on a Vietnam-era, pierced-steel planking runway. EF-participating aircraft tried to detect the XCub as an enemy target as well.
"Team Eglin is a great host of this cooperative test event," said ret. Air Force Col. Mike Pietrucha, test director for the XCub project. "There is such a wide range of airpower capabilities from fast jets, to slow-flying aircraft."
The next iteration of Emerald Flag, planned for late October.