Boeing has rolled out the first F-15EX Eagle II in St. Louis that will be delivered later this year to an operational U.S. Air Force squadron, the company said on social media accounts.
The aircraft in yellow and green primer paint was shown crossing a street dividing Boeing's factory from the airport. The angle showed the aircraft still lacks a full canopy, but includes all other major structural features.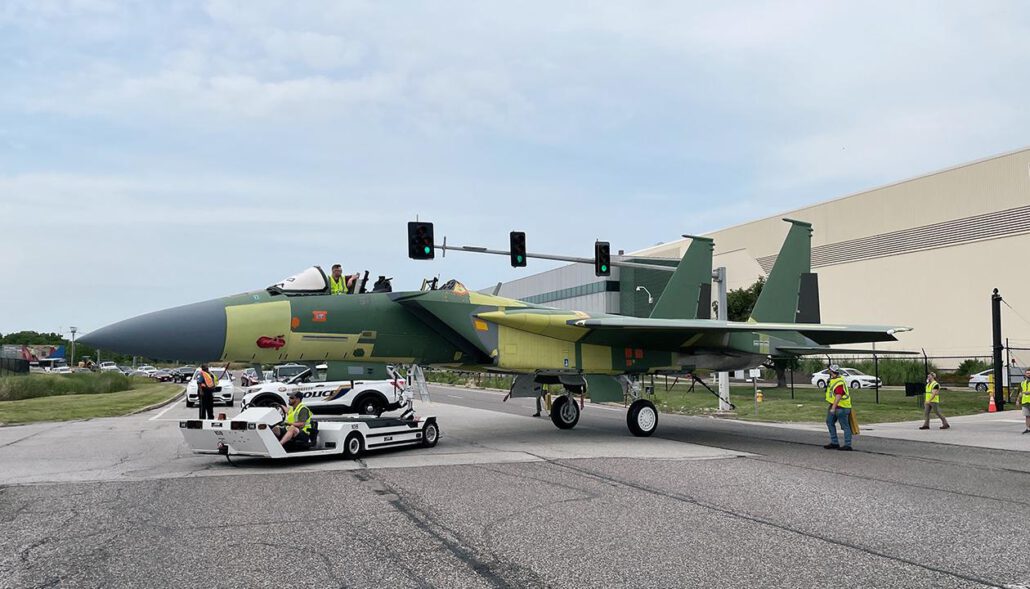 The rollout ends a nearly 2 1/2-year gap since the delivery of the first two F-15EX aircraft to the Air Force in March-April 2021.
The first two Eagle IIs were delivered to the Air Force's test squadron and sport a slightly different configuration from follow-on deliveries.
The Air Force wanted Boeing to deliver the first two test aircraft as quickly as possible after the program's go-ahead in the fiscal 2020 budget. So Boeing diverted two aircraft from the F-15QA production batch for Qatar and delivered the aircraft with U.S. markings.
Although technically the first two F-15EX aircraft, the first Eagle IIs delivered to Air Force testers are equipped with provisions for a missile approach warning system that is not part of the U.S. configuration.
Despite not being exact copies, the first two aircraft have completed a series of critical tests, including the revalidation of stations 1 and 9 to enable each F-15EX to carry up to 12 missiles. Flutter concerns had forced the Air Force to stop using stations 1 and 9 on previous F-15s, but the fly-by-wire upgrade ordered for the Royal Saudi Air Force for the F-15SA allowed Boeing engineers to tune out the flutter risk with automated digital signals from the flight controls.
The Air Force's original scheduled called for Boeing to deliver the first operational version of the F-15EX in December 2022, but the shipments have been delayed by eight months. In June, the Government Accountability Office warned that the schedule slip creates a risk that Boeing could miss other schedule targets, including initial operational capability.